Garmin-Asus nuvifone M20 Preview
1

This is a global GSM phone. It can be used with AT&T and T-Mobile USA, but without 3G.
The
American version
supports AT&T's 3G network
.
We have been informed by Garmin-Asus that some of the problems we have encountered while testing the nuvifone M20 are not typical for the production units. This is the reason we are making this review a preview of the phone and you will learn our final opinion once we have received a new unit from the manufacturer.


Introduction and Design:
Oneof the latest tendencies in mobile phones nowadays is installing a GPSmodule and functionality, turning the handsets into a more practicalalternative of standalone navigation systems. The Garmin-Asus jointventure targets this particular niche with its models, combining theexperience of both companies in different areas. It makes perfect sensesince the former is specialized in navigation systems, while the latteris producing computer components and Windows-based cell phones. Todaywe are introducing the
nuvifone M20
that runs Windows Mobile 6.1 Professional and not the proprietary,Linux-based operating system that powering the other Garmin-Asusproduct, the
G60
.
The Garmin-Asus nuvifone M20 sports a
2.8 inch display
with VGAresolution, which keeps the devise compact in size.
On the front
youwill find the D-pad and send and end buttons, while the volume rockeris on the left hand side. The screen lock slider is on the oppositeside, next to the opening of the stylus compartment, while the miniUSBport to charge your phone and connect it to a computer is on the bottom.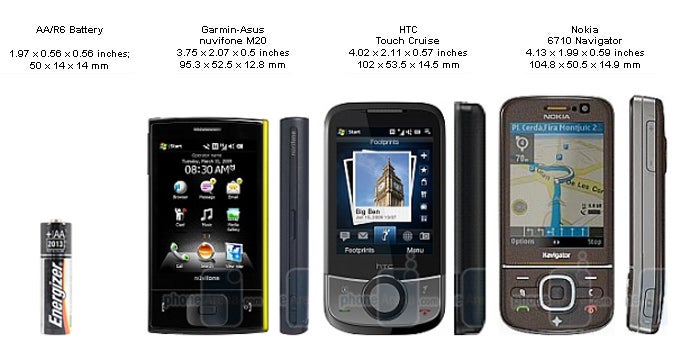 Y
ou can compare the
Garmin-Asus nuvifone M20
with many other phones using our
Size Visualization Tool.
[adsright[1]]
As a whole
, the design of the Garmin-Asus nuvifone M20 is not too impressive. But let's see what software features it has to offer.
Garmin-Asus nuvifone M20 360 Degrees View: Recommended Stories