Asus Transformer Book T100 Review
13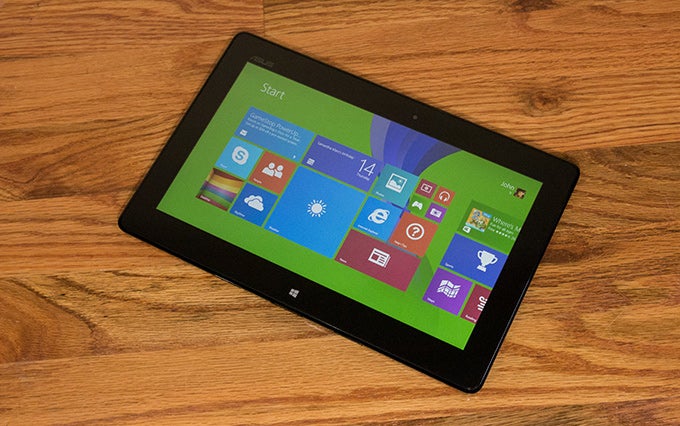 Introduction
Windows 8.1 is finally spreading to the masses, but as we approach ever so closer to that crucial busy holiday time frame, we're bound to see manufacturers competing against with one another on a more aggressive manner. Taiwanese company Asus is a familiar staple in the Windows front, having been a major player last year when Microsoft rolled out its long awaited new desktop OS. Targeting budget conscious consumers, the
Asus Transformer Book T100
is one tough Windows 8.1 tablet to overlook – more so when it's attached with an oh-so attractive starting price point of $349 including a keyboard dock!
The package contains:
microUSB cable
Wall charger
Keyboard dock
User manual
Warranty card
Design
Much like the other darlings in the affordable tablet category (we're looking at you
Google Nexus 7
), the Asus Transformer Book T100 has a pretty decent looking design that doesn't come off as cheap or tacky. From the front, it looks like your average slate, but flip it around, it has a pleasant looking glossy plastic finish that has a bit of luster due to its pattern design. Although the plastic helps to keep it lightweight, it's slick and very prone to smudges, fingerprints, and scratches. Overall, it's not the prettiest in the stable, nor the ugliest either – so we're content in what we're given with it.
Around the tablet's trim, we find its volume control, dedicated start button, power key, 3.5mm headset jack, microUSB port, microHDMI port, microSD slot, microphone, and dock connection port – the latter of which, allows us to connect it with the keyboard dock attachment.
Strangely, it appears as though there's a capacitive start screen key beneath the keyboard, but in fact, it's nothing more than a logo. Instead, the actual start button is located on the left side of the tablet – next to the volume control. And there's no rear camera with this one either, mainly to keep its price low, but they happily armed it with a front-facing 1.2-megapixel snapper at least.
Keyboard
Absolutely a bargain, the tablet's price also includes the keyboard dock attachment – turning this tablet into a convertible styled laptop. Unlike other docks we've seen from Asus, this one actually doesn't have its own built-in battery to supplement the one in the tablet. Thankfully though, there's a USB 3.0 port on its side, which adds to its arsenal.
Employing chicklet styled keys, it's nice that the buttons are raised, distinct, and offer a decent amount of feedback when pressed. However, its cramped layout makes it tough speed typing – though, after some practice, we're able to adjust properly. As for the trackpad, it's a bit stiff to the touch, which sometimes requires us to use firm presses and swipes for it to register.
Display
Okay, the display is nothing spectacular, but we're forgiving about it – mainly because of the price point again. Donning a 10.1-inch 1366 x 768 IPS LCD display, which delivers a pixel density count of 155 ppi, it's not heavy with the details, naturally, but nevertheless, it's a sufficient tally that provides an effective amount of visibility for most things. Other aspects of the display aren't surprising either, like its washed out color production and weak viewing angles – again, the unfortunate compromises with an aggressively price tablet. Well, with those particular weaknesses, it doesn't handle outdoor conditions all that well.