Acer Liquid E2 Review
4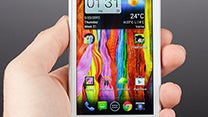 Introduction:

The
Acer Liquid E2 Duo
does not come from Samsung or Apple, nor it is a bleeding-edge device, but - contrary to what you might expect - it is an extremely fascinating handset. The reason for that lies deep in its brain. The Liquid E2 is the first device to come in our hands featuring a quad-core chip from MediaTek that is extremely affordable yet very powerful. It is the MediaTek MT6589, a chip that is now used in virtually every Android flagship from China, making the existence of $200 5-inch 1080p phones possible.
The Acer Liquid E2 Duo on its part has a spacious, but not too large 4.5-inch display with 540 x 960 pixel resolution, a surprisingly good 8-megapixel camera and dual-SIM card support. The little quad-core chip inside it makes possible some very cool features like 1080p video recording and that's quite a feat for such an affordable phone.
There is plenty beneath the not so pretty plastic surface of this phone, and we definitely encourage you to read on to see just how far affordable Androids have gone. It's impressive.
In the box:
Wall charger
Headphones
MicroUSB to USB cable
Design:

We said there is plenty to get excited about the Acer Liquid E2 and we stick to our words. Let's just make it extra clear that none of that excitement comes from its design. The phone is plastic, thick, looks kitsch and has a large bezel around the screen. It is generally unimpressive.
At even first glance, you'd notice the lack of attention to detail. The
capacitive navigation keys
are unevenly lit making the phone look even cheaper than it is. On the back, the plastic is soft to the touch and it feels rubbery which might turn out to be an advantage as it can help for a better grip. The back is also where the signature for Acer dual speakers are located - one on top and one on the bottom.
The snow white color of the front flows into a pearl white on the
back
. A thin chrome strip lies around the side. There is a volume rocker on the right and the lock key is on top which is always a bit of a stretch.
Screen:

The Liquid E2 features a
4.5-inch qHD IPS display
. That means the
resolution is 540 x 960 pixels
- just one step behind the coveted 720p high-definition. Pixel density is around 245ppi which is definitely decent. In reality the screen is sharp but you can definitely see the slight pixelization noticeable around the edges of icons.
Viewing angles on the IPS display are great, colors fade out only slightly even when you tilt the device to more extreme
angles
. The screen is reflective and this is something that makes it harder to read in direct sunlight, but if you avoid those reflections it is definitely legible even under the direct sunlight.
Recommended Stories