The wearable smartphone Nubia Alpha is coming to the US with a gift for its biggest fans
3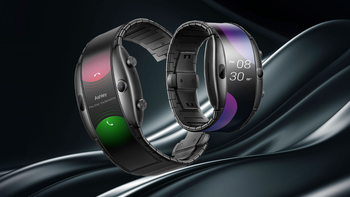 Just like in fashion, the tech world has its own trends and this year the main one is destined to be flexible displays. Manufacturers have been showing off various prototypes of devices with bendable OLED screens at expos for years, but now products are finally reaching the average consumer. And while the spotlight is currently on the Samsung
Galaxy Fold
, another company is entering the bendable gadgets scene with a completely different device.
The Nubia Alpha is for now a device in a class of its own. With its bendable 4-inch display and integrated camera, it's the missing link between smartwatches and smartphone. We talked about its specs and features more thoroughly back when it was
officially announced
in February.
AirPods
and Galaxy Buds and 6.5 hours of playback time, so it's not something you'd want to pass on if you were eyeing the Alpha anyway.
The price for the Nubia Alpha is $449 in the States and 449 Euro for those living in the Old Continent. An important thing to note is that this is the Bluetooth version of the device. This means that calling and messaging can only be done if it's paired to a smartphone. Nubia is still negotiating with carriers the support for the eSIM version of the Alpha, which will let you ditch your phone completely.
Without the eSIM functionality, however, the Nubia Alpha is more akin to a smartwatch than a smartphone you can wear on your wrist. Still, it's an interesting device and if you're the type of user that likes novelty, it might be a good fit.