Unlocked Moto Z3 Play goes 50 percent off list at Fry's with free Moto Mod included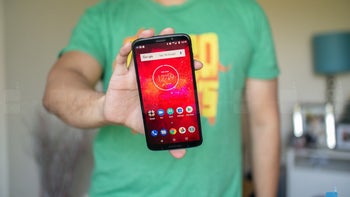 After being
repeatedly discounted
by
its manufacturer
and reputable third-party retailers like
Amazon
,
Best Buy, and B&H Photo Video
in recent months, the
Moto Z3 Play
seems to have received a permanent price cut from $500 to $350 in an unlocked variant on Motorola's official US website.
Then again, the same upper mid-range handset is currently available for a full 500 bucks at B&H Photo Video and $400 and up with upfront carrier activation through Best Buy. Meanwhile, a killer new deal from Fry's Electronics lets you save 50 percent off the unlocked Moto Z3 Play in a Deep Indigo color with a Power Pack Moto Mod included at no extra charge.
Hence, you're looking at paying only $249.99 for a modular
6-inch smartphone
with a Snapdragon 636 processor and 3,000 mAh battery, as well as a snap-on accessory that will seamlessly add an extra 2,220 mAh of power into the equation. The Z3 Play sports a reasonably sharp Super AMOLED screen with a resolution of 2160 x 1080 pixels and no cutout of any sort, a generous 4 gigs of RAM paired with 64 gigs of internal storage space, decent 12 + 5MP dual rear-facing cameras, and a side-mounted fingerprint scanner.
You should also be able to run the latest (official) version of Android out the box following a
recent over-the-air update
, while perhaps the most infuriating flaw of the Moto Z3 Play is the lack of a headphone jack. Universally unlocked for both GSM and CDMA network use, the increasingly affordable 6-incher can be activated at will on your carrier of choice, be it AT&T, T-Mobile, Sprint, or Verizon.
Technically available both in physical Fry's stores and online for US shipping, the half-off Z3 Play might not be very easy to come by in certain states and areas. If you can get it at $249.99, you probably shouldn't hesitate to pull the trigger as soon as possible.