New Motorola promotional offer includes deals on Moto Z3 Play, Moto G6, G5S Plus, and other phones
0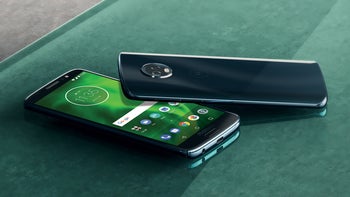 Motorola today kicked off yet another series of deals aimed at US customers in need of one or more unlocked Moto smartphones. Thus, some Motorola phones are now discounted outright, while others that are offered at full prices come with a second handset for free.
Unfortunately, Motorola's current promotional offer does not include any of the
Moto G7
smartphones launched this year. Nevertheless, the company's new deals cover a decent selection of Android devices that are worthy of attention if you're on a budget, including the
Moto G6
(pictured above) and the
Moto Z3 Play
.
Buy a mid-range Moto Z3 Play for $499.99 and get a free entry-level Moto E4 Plus 16 GB (currently priced at $109.99). The Z3 Play also comes with a free Moto Power Pack - this is a Moto Mod that you can snap on the Z3 Play to increase its battery life
Buy a Moto G5S Plus 32 GB for $249.99 and get a similar phone for free, or buy a Moto G5S Plus 64 GB for $249.99 and get a free Moto E4 Plus 16 GB
Buy a Moto E4 Plus 32 GB for $199 and get a free Moto E4 Plus 16 GB
The Moto G6 64 GB is now priced at $219.99 instead of $319.99; Moto G6 32 GB priced at $179.99 instead of $249.99
Moto G6 Play - $169.99 instead of $199.99
Moto G5 Plus 64 GB - $199 instead of $299
Motorola says that these deals will be available until at least April 27. Each and every Moto phone listed above is compatible with all relevant US mobile carriers, including the major ones: Verizon, AT&T, T-Mobile, and Sprint.