New Nvidia Shield TV and Shield TV Pro come with AI 4K upscaling at $149 and up
2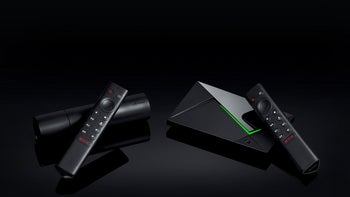 New Nvidia Shield TV (left), Shield TV Pro (right)
A couple of years after the fifth-generation Apple TV digital media player was released and less than two months after Amazon took the wraps off a second-gen Fire TV Cube, Nvidia is today unveiling not one but
two new Shield models
.
These follow in the footsteps of 2015's original Android TV set-top box and a refreshed 2017 version that came with a smaller form factor and no hardware upgrades whatsoever. This time around, Nvidia is changing a number of things under the hood, starting with a Tegra X1+ processor that promises to deliver "up to" 25 percent more performance than its predecessor.
That may not sound very drastic, but although fairly old, the Tegra X1 SoC is still pretty impressive, at least considering the muscle required to handle your living room entertainment needs. Of course, the new Nvidia Shield TV and Shield TV Pro can do a lot more than stream your favorite Netflix movies and shows, also supporting cloud gaming and "advanced native games."

Most interestingly, the two upgraded streaming devices are capable of not only playing 4K HDR content, but also upscaling HD video streams into 4K resolution with the use of artificial intelligence. That way, you can enjoy "crisper, clearer video enhanced to 4K resolution in real-time." Naturally, the Shield TV and Shield TV Pro come with Dolby Vision and Dolby Atmos support as well, combining the best video and audio technologies available at fairly reasonable prices.
We're talking $199 for the Pro variant and $149 as far as the non-Pro model is concerned, both of which
can already be purchased in the US
alongside a brand-new remote with motion-activated backlit buttons, a built-in locator, a microphone for voice search (powered by Google Assistant, of course), and a pair of AAA batteries for juice.

The main differences between the Nvidia Shield TV and Shield TV Pro are two USB ports found only on the latter for running a Plex Media Server and connecting hard drives, along with 16 gigs of storage and 3 gigs of memory (downgraded to 8 and 2GB respectively on the non-Pro version). Also, the Pro is actually aesthetically similar to previous Shield editions, looking like a swanky box you can position next to your living room TV set, while the non-Pro Shield TV is meant to stay out of sight with a slimmer tubular design.
Recommended Stories