iPhone 5s and iPhone 5c now shipping worldwide, see when and where
15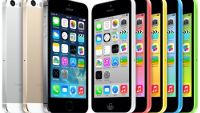 Ladies and gentlemen, the time hasfinally come. Apple, starting today, is going to begin shipping itsnew iPhone 5s and iPhone 5c simultaneously around the world. Thefirst batch of the new Apple goodies are slated for 11 markets atfirst, though Cupertino has promised that its premium phones willcross the boundaries of over 100 countries worldwide, across some 270carriers in all. That's a pretty impressive number, one thatcorresponds to the massive popularity of the iDevices.
Many of you will be scrambling tofind an exact release date and time for their next iPhone, whetherit's the brightly-colored iPhone 5c or the premium,fingerprint-touting iPhone 5s, and we're here to help. As you'reabout to see for yourself, there's a clear pattern.
So, release date and time. BothiPhones are being made available on Apple's iStore, as you read this,in Australia, Canada, China, France, Germany, Hong Kong, Japan,Puerto Rico, Singapore, the UK, and the US, starting at 12:01AM localtime in each respective country (and 12:01 PST for the USA). Ifonline shopping isn't quite your thing, then bear in mind that,starting at 8:00AM, all Apple retail stores will start selling thenew iPhones, irrespective of country.
And last but not least? Delivery times.These are pretty straightforward, if you're eyeing the iPhone 5c: 1-3business days irrespective of country. The situation with the iPhone5s is a little more complicated, though. Everyone, except people inthe USA, Hong Kong or Singapore, will have to wait 7-10 business days for the silver or grey iPhone 5s, and an undisclosed"October" delivery for the golden iPhone 5s. Hong Kong andSingapore, as previously stated, have it a little different (andworse) – the iPhone 5s in silver or grey will be available inOctober, while the golden version is listed as "currentlyunavailable".
For those of you in the US, theiPhone 5s is the most readily available – only a 1-3 business daydelivery for the silver or grey iPhone 5s, and a 7-10 business days deliveryfor the gold iPhone 5s.

Australia
Canada
United States and Puerto Rico
China
France
Germany
Hong Kong and Singapore
Japan
United Kingdom
iPhone 5s estimated delivery

Silver/Grey

: 7-10 business days;

Gold

: October

Silver/Grey

: 7-10 business days;

Gold

: October

Silver/Grey

: 1-3 business days;

Gold

: 7-10 business days

Silver/Grey

: 7-10 business days;

Gold

: October

Silver/Grey

: 7-10 business days;

Gold

: October

Silver/Grey

: 7-10 business days;

Gold

: October

Silver/Grey

: 7-10 business days;

Gold

: currently unavailable

Silver/Grey

: 7-10 business days;

Gold

: October

Silver/Grey

: 7-10 business days;

Gold

: October
iPhone 5c estimated delivery
1-3 business days
1-3 business days
1-3 business days
1-3 business days
1-3 business days
1-3 business days
1-3 business days
1-3 business days
1-3 business days