iPhone 5 becomes the fastest selling phone on AT&T beating... iPhone 4S
30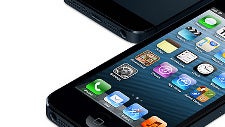 AT&T has just announced today that the
iPhone 5 has become the fastest selling phone on the carrier
beating no other but the iPhone 4S. AT&T didn't give any hard numbers, but did say that sales of the iPhone 5 were better than all previous iPhones both on first day and throughout the opening weekend. Last year, AT&T had 200,000 iPhone preorders in a mere 12 hours, and this year that number should be even higher.
Across all three U.S. carriers at its launch, the iPhone 4S recorder 4 million sales in the opening weekend and currently holds the title for fastest selling phone.
Now, expectations are for the iPhone 5 to surpass those 4 million sales and
reach as much as double that number
in the best-case scenario.
So far, we've heard that
Apple sold out of its initial preorders for the iPhone 5
and the shipping date was quickly pushed back to a week. Since then more and more preorders have come in and the waiting period for preorders has grown to the whopping 2 to 3 weeks.
source: AT&T via
AllThingsD
AT&T SETS SALES RECORD FOR IPHONE 5

Most Successful iPhone Launch Ever

DALLAS, Sept. 17, 2012 — AT&T* set a sales record with iPhone 5 over the weekend, making it the fastest-selling iPhone the company has ever offered. Customers ordered more iPhones from AT&T than any previous model both on its first day of preorders and over the weekend.

iPhone 5 is still available for preorder at www.att.com/iphone and will be available in AT&T retail stores beginning at 8 am local time on Friday, September 21.

AT&T offers a number of advantages for iPhone 5 customers.

· AT&T's network lets you talk and surf the web at the same time.

· Largest 4G Network. Customers get blazing-fast speeds on the nation's largest 4G network, covering 275 million people.

· Flexible Rate Plans. AT&T doesn't force customers to switch data plans to get the best device price when they upgrade to a new device and new AT&T customers aren't forced into a certain plan; they have the flexibility to choose from one of several individual or Mobile Share plans.

More customers choose AT&T for iPhone than any other U.S. carrier.

For more information on iPhone 5, please visit: www.att.com/iphone.