iPhone 5 sold out, shipping date pushed back
99+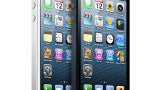 At 12AM EST today, Apple initiated its preorders for the
iPhone 5
. Originally scheduled to ship on September 21, it turns out some user might have to wait a bit longer in order to receive their new handset.
Apparently, about an hour after the start of the preorders, Apple has sold out of its initial quantities. As a result the new shipping date set for all new preorders is now September 28 - a week later. We wouldn't be surprised if Apple continues to push the date back as more and more preorders arrive. Thankfully, carriers offering iPhone 5 preorders are still showing Sep 21 as shipping date.
Of course, it isn't currently known to how many units this amounts, but the figure will probably be record-breaking. For the most impatient users, there's always some chance of finding a unit in the retail stores on launch day... if you don't fear long lines and big crowds.
If you'd like to know more about the new iPhone 5, you can easily find all our coverage right
here
.