Google Pixel 4 & Pixel 4 XL hands-on
16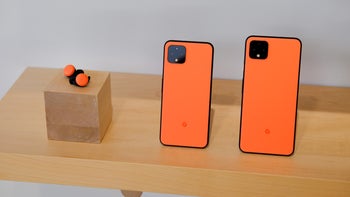 It's here, folks! After months of leaks (and some from Google itself), the Pixel 4 has been officially announced. I had the chance to play with it for a while at Google's event, and here are my first impressions from Google's latest Pixel phones.
Design
The phone is a sleek, oblong shape that fits neatly into the hand. I was prepared to call the Pixel 4's thick top bezel the elephant in the room, but seeing it in person changed my mind. Yes, the bezel is pretty large, but from the time I spent with it, it doesn't seem any more noticeable than a notch would be.
That top bezel is there to house one of the most exciting new features – the Soli radar chip, which makes gesture control possible and helps with speeding up face unlock – more on those later.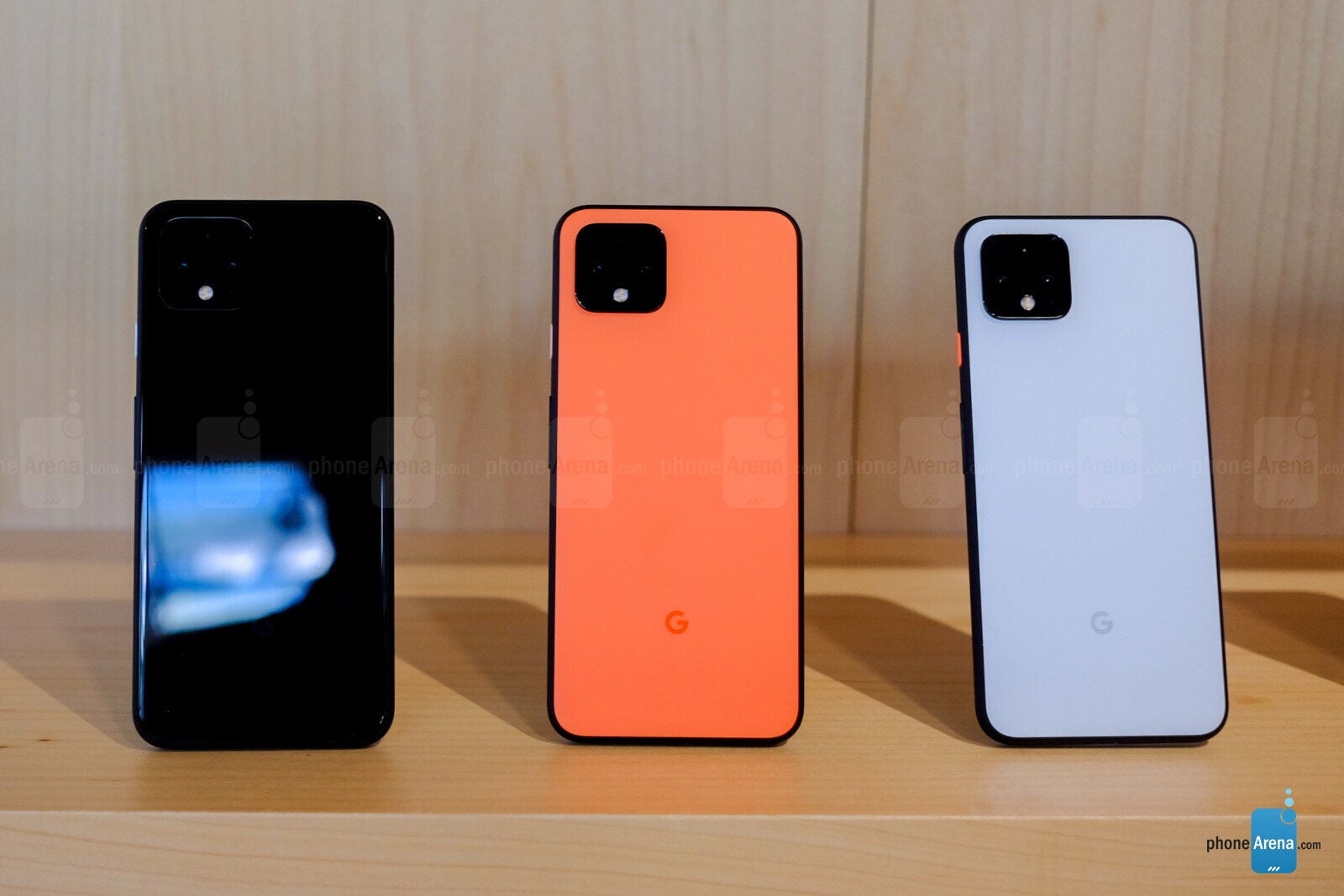 The Google Pixel 4 in Just Black, Clearly White, and limited edition Oh So Orange
The phone is available in customary Google colors, including Just Black, Clearly White, and limited edition Oh So Orange. The white and orange versions of the phone have a slightly rubberized, soft-matte finish that's very pleasant to hold. The black model is slipperier, with a glossy finish. Unfortunately, just a few seconds showed that the shiny back was a huge fingerprint magnet.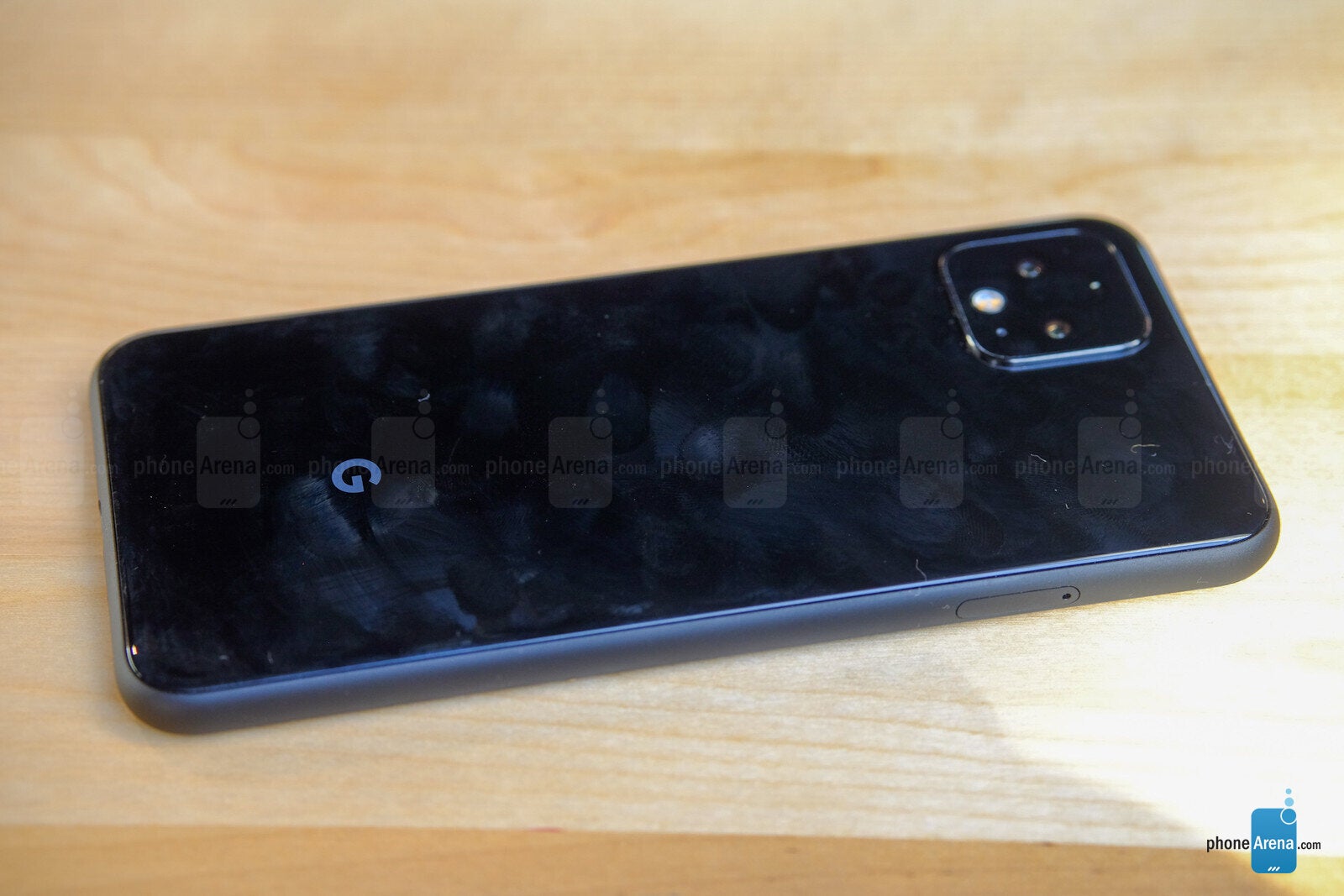 The black Pixel 4 collects fingerprints easily
The Pixel 4's look from the back is hardly a surprise given that
Google itself leaked the design some months ago
. It's smooth and flat, with no protrusions or markings except for the square camera bump, which is thinner than a credit card, and a small Google logo.
Unlike last year's Pixel 3, the Pixel 4 and 4 XL are visually indistinguishable save for the size difference.
Display
The Pixel 4's 5.7" OLED display boasts a Full HD+ resolution (444 ppi). It also stands out with its 90Hz refresh rate, matching the displays of recent OnePlus phones. With more tech magic, the Pixel's display will vary the refresh rate based on the content on-screen to give the best performance and maximize battery life.

The Pixel 4 XL is the same, except the screen is 6.3" and the resolution gets a bump to QHD and a razor-sharp 537ppi.

The display seemed plenty bright when I used it, and colors were vivid but natural and altogether quite pleasing.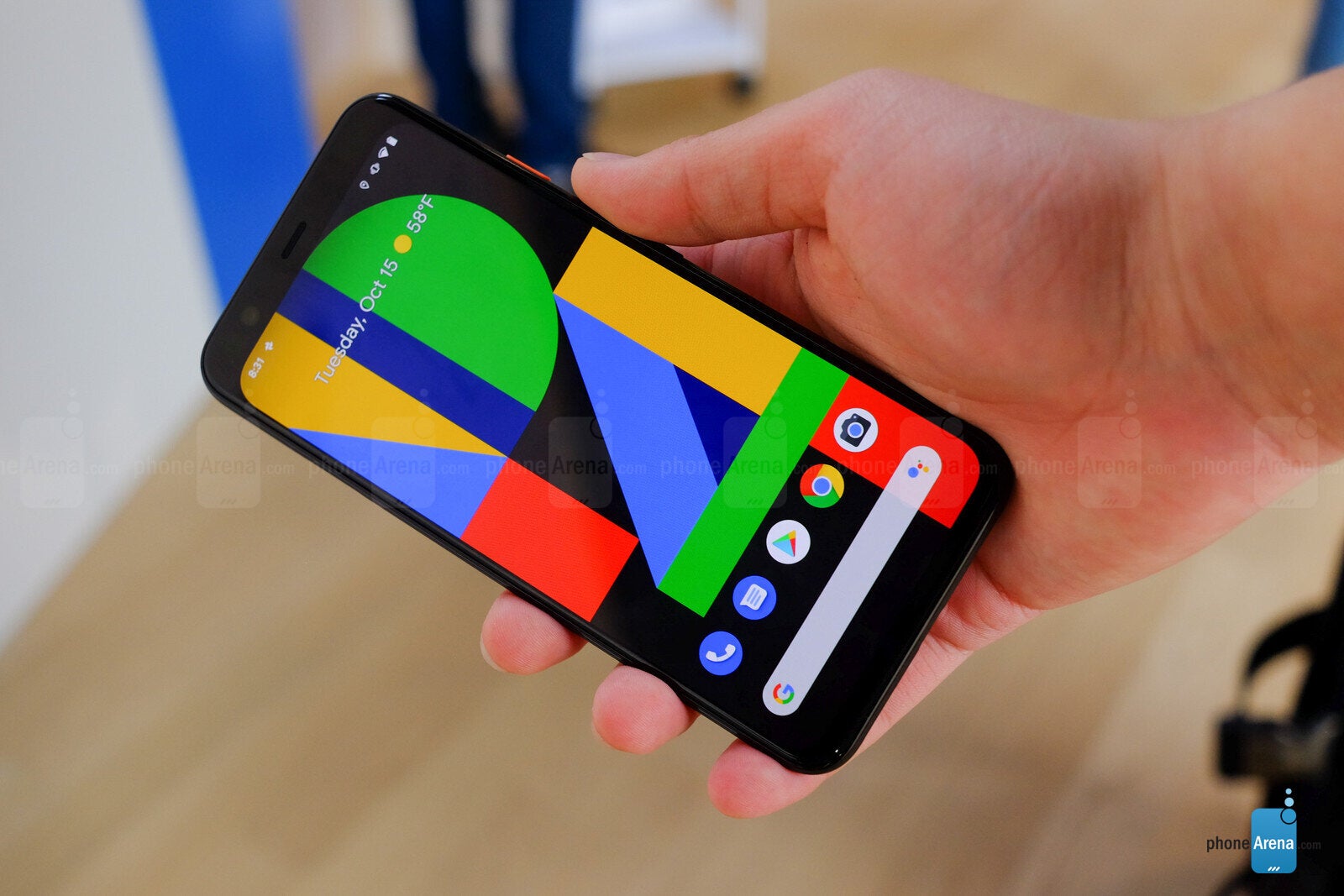 Interface


The Pixel 4 will launch with Android 10, of course, with speedy updates guaranteed for years (but it isn't the first phone on Android 10).
A big change from the previous Pixels is the fingerprint reader – or lack thereof. The Pixel 4 uses facial recognition as its only form of biometric authentication, and this is thanks to a bunch of sensors confined within the top bezel. Next to them is the new Soli chip which speeds up the unlock process by detecting your presence. The Soli chip uses radar to accurately and quickly detect motion in 3D, and Google says it has the fastest face unlock yet. I wasn't able to try it personally, but the demos make it seem like it has a legitimate claim.
Also coming with the Soli chip is Motion Sense, or gesture control. The phone can recognize swipes above the display to control media or snooze alarms. It sounds similar to the Air Motion technology on the LG G8 ThinQ, but it's based on different mechanisms entirely. The Pixel 4's version seems to be more fluid – the gestures worked on the first try after a quick learning curve, and they feel fast and intuitive.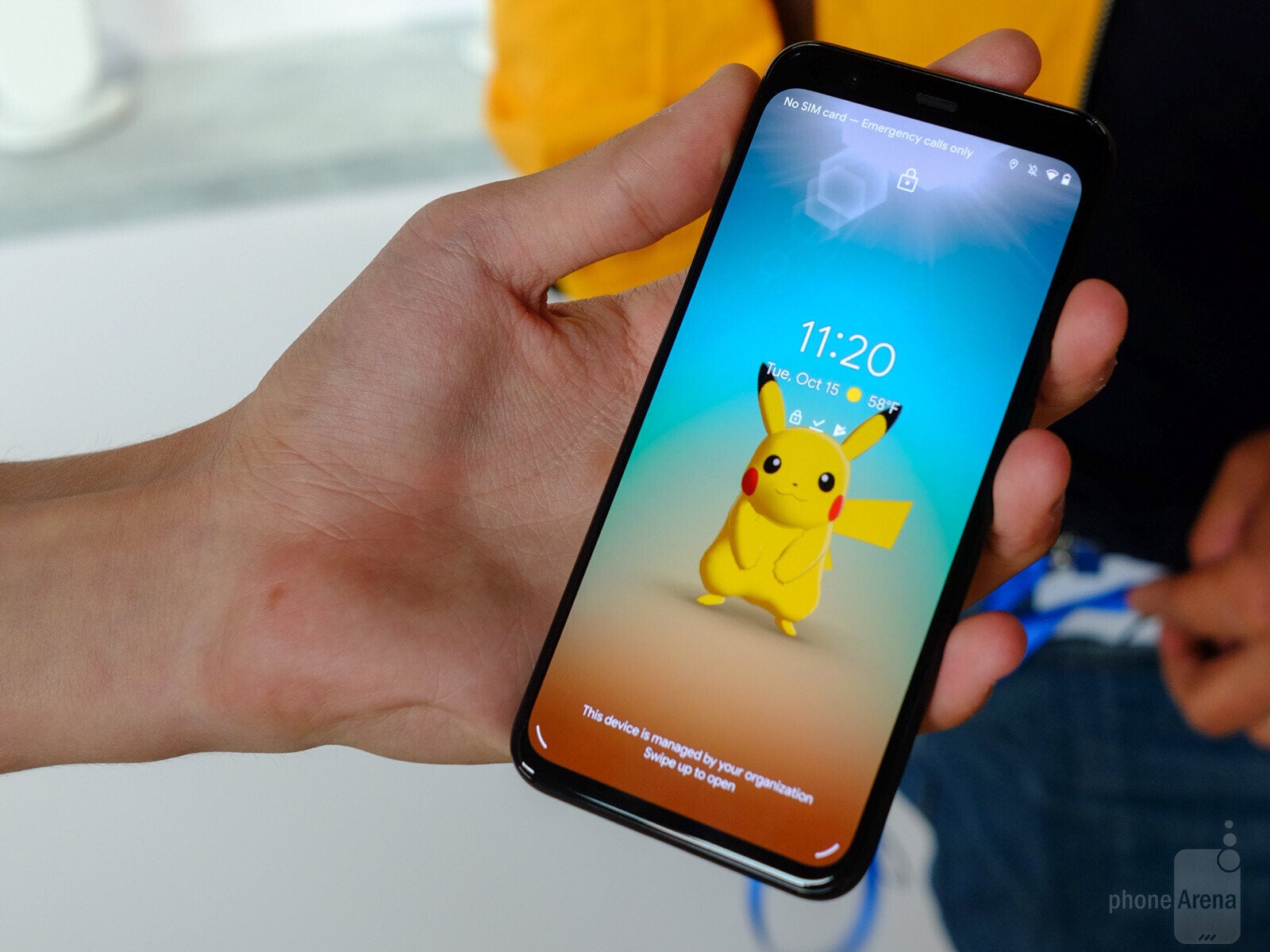 If you wave at Pikachu on the Pixel 4, he'll wave back!
Another incredible software feature is Recorder – a voice memo app that taps into Google's AI and speech recognition to transcribe speech with almost scary accuracy. Recorder easily picked up pauses and adds punctuation, and it has a smart search feature that allows you to search the audio for specific words or phrases.
Performance and battery


The Pixel 4 and 4 XL launch with top-tier flagship specs – no surprise there. Both models have a Snapdragon 855 to power to the whole thing, along with a respectable 6GB of RAM.
Pixel 4 actually has a small decrease in battery capacity at 2800mAh compared to the Pixel 3's 2915mAh. On the other hand, the Pixel 4 XL has received a modest bump to 3700mAh from 3530mAh. Google says the software is optimized to maximize battery life as well.
Like previous Google devices, the Pixel 4 has Titan M chip for enhanced security on sensitive information.
Camera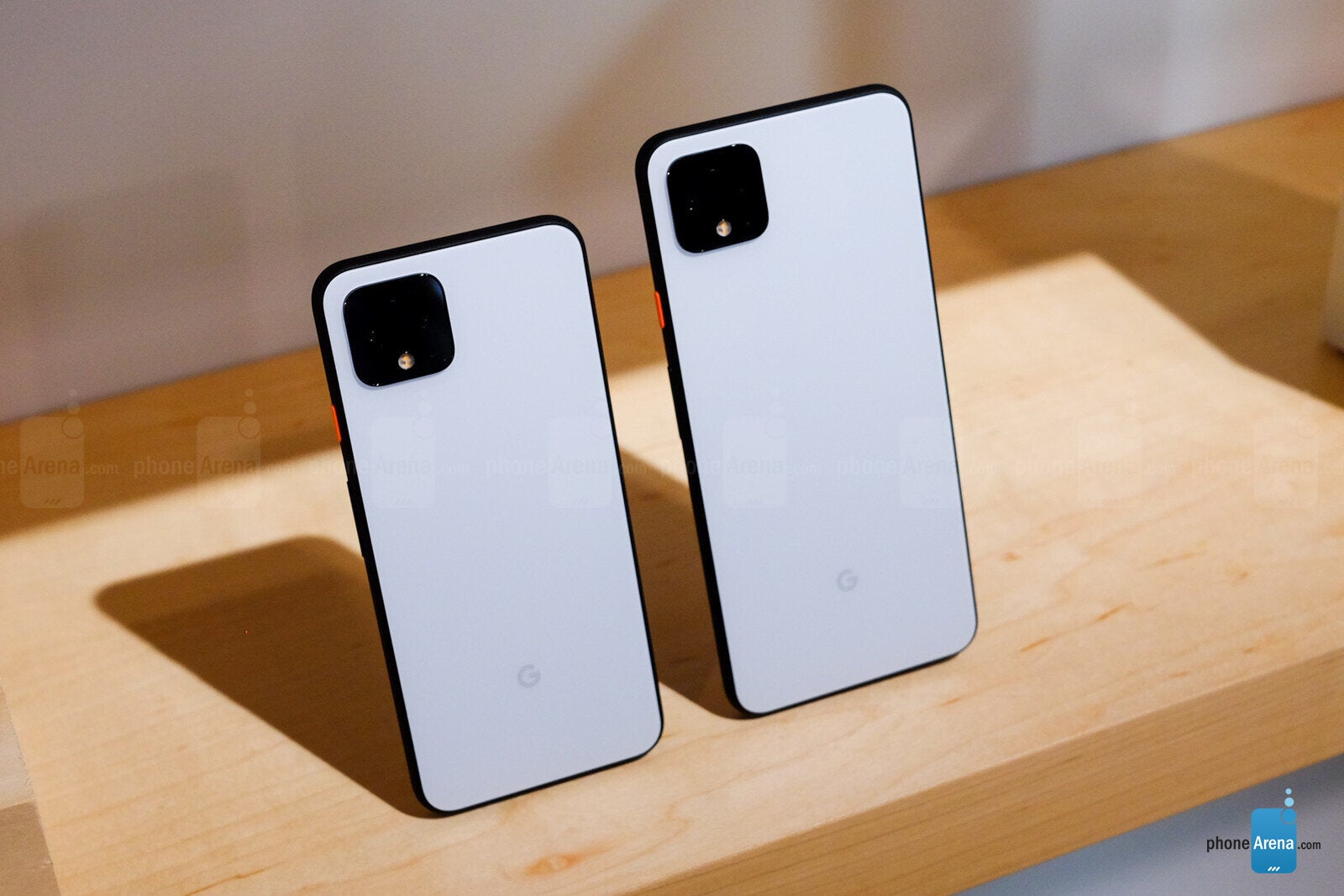 Top-notch camera quality has always been a highlight on the Pixel series, and the Pixel 4 is no different. Unlike the single-lens setup Google has stuck with for past models, the Pixel 4's square camera bump features a dual-camera setup with standard and telephoto lenses. There's also a new 'hyperspectral sensor' which is said to capture extra data for image processing.
Of course, Pixel's photographic prowess is based on Google's camera software, and at the center of it is machine learning. Live HDR+ offers a real-time look at HDR photos, resulting in improved performance in shadows and highlights, along with reduced noise. Machine learning also kicks in for white balance, so Pixel 4 can automatically correct color casts.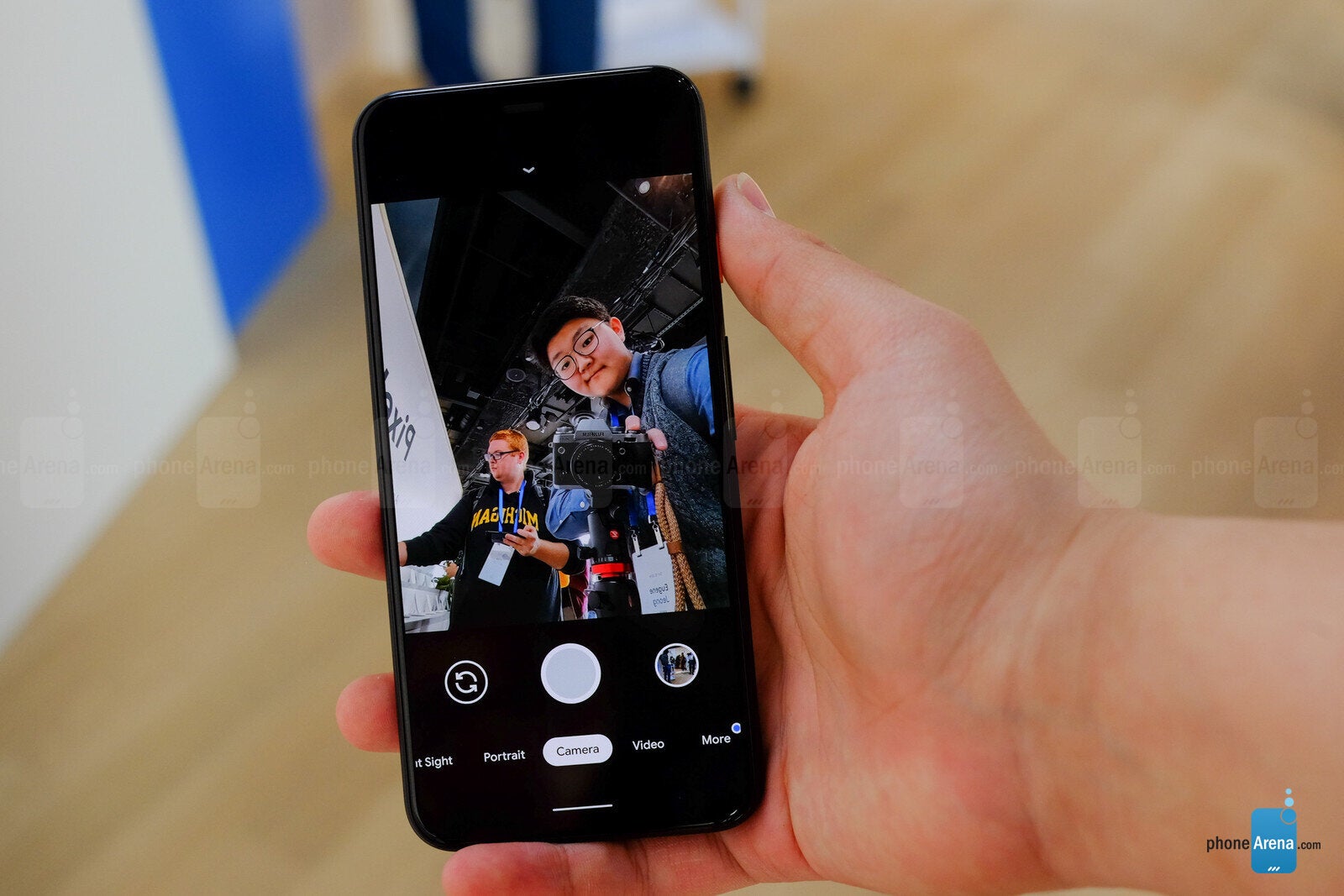 Another new photo feature is Dual Exposure, which allows you to control both brightness and tone mapping right on your smartphone. I used Dual Exposure to create a silhouette portrait, and it was fast and seamless. The new feature is mostly software-based, but Google reps said it will be Pixel 4-exclusive, for now at least.
Night Sight has also been improved, which also offers enhanced astrophotography for some seriously stunning star shots.
Pricing and availability
The Pixel 4 is priced identically to last year's Pixel 3, at $799/899 for 64/128GB, while the Pixel 4 XL is priced at $899/$999 for the same storage options. For the first time, the Pixels will be available from all major US carriers, including Google Fi, or course. Both models are available for pre-order today, with shipping starting October 24.