Google is giving away a free audiobook to some Google Home owners
2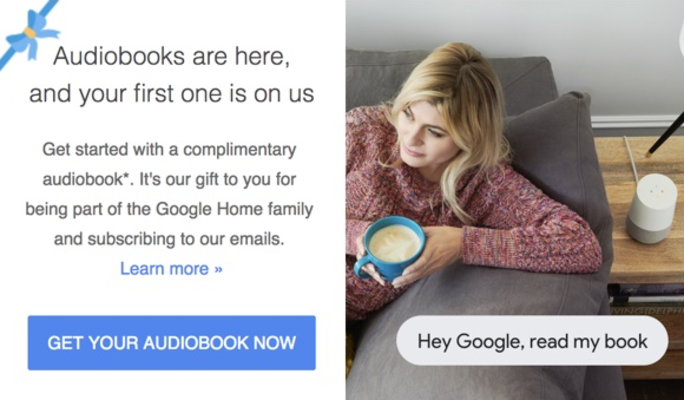 If you own a Google Home smart speaker, check the email that is associated with the device. You might find correspondence from Google awarding you a free audiobook for your Google smart speaker. Google is resorting to Marketing 101 to help promote its new line of audiobooks that it launched last month. The search giant is hoping that you loved the experience of listening to the free audiobook on your Google Home so much, that you will pay for future audiobooks.
There is a clock on this freebie. You must make your selection by next Friday, February 9th or you will lose the opportunity to listen to an audiobook on Google's dime. Actually, it normally takes more than just a few dimes to purchase one of the titles. For example, even with a limited time sale, Michael Wolff's
Fire and Fury
is $8.99 and Stephen King's horror classic
IT
is $9.99. Usually, the regular pricing for the two titles is $26.99 and $39.99, respectively.
If you do receive the email with word of your free audiobook, simply click on the box that reads "Get Your Audiobook Now" in order to choose your free gift. If you did not receive a freebie from Google, keep in mind that your first selection is 50% off. That's not as good as free, but it is better than paying full price.
If you do get to select a free audiobook from Google Play Books, you can have it read over your Google Home device by telling Google Assistant, "Hey Google. Read my book."
source:
AndroidandMe