Zynga making moves to bring more of its games to mobile
3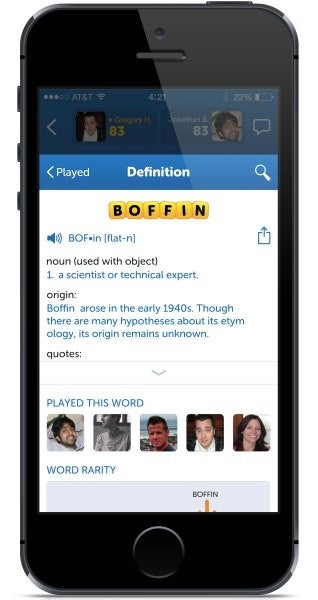 The New Words with Friends will include a new dictionary feature
The company that brought you
Farmville
and ruled the roost when it came to Facebook gaming has been struggling to remain relevant in the white-hot space that is mobile.
Draw Something
, the former darling of the mobile app gaming world, number one in everything, everywhere, had turned into a money-pit, and the old standby,
Words with Friends
was getting a little long in the tooth.
Today, Zynga announced fresh mobile friendly designs of three games,
New Words with Friends
,
FarmVille 2: Country Escape
, and
New Zynga Poker
.
New Zynga Poker
has been completely rebuilt, providing new layers of social integration as well as a new learning tool. The game will now adapt to your skill level and preferences.
FarmVille 2: Country Escape
is a mobile experience first app that will allow you to transfer your goods between your mobile app and desktop app. The game can be played offline too and you will have more granular control over the social features and integration associated with the game.
Then there is the
New Words with Friends
, the game turns five years old this year and Zynga did a complete refresh of the game. Now there is a dictionary feature built into the game and the social integration has been enhanced so you can outwit more of your friends. The new game will carry over your current game statistics and friends.
All the games will be launched "in the coming weeks" and will be mobile-first launches. The company has committed to bring 75% of its new games to mobile.
source:
The Wall Street Journal