ZTE Tania arrives in the UK: affordable 4.3-inch Windows Phone
9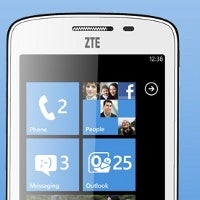 The
ZTE Tania
stirred our imagination when it was announced last year with its combination of a 4.3-inch display reserved for higher-end devices and an affordable price tag. Now, finally, it's ready for primetime in the UK - the handset has hit local retailers and ZTE is pushing the marketing for the affordable Windows Phone handset.
Apart from the
4.3-inch WVGA display
, which is probably the biggest and most valuable asset of the Tania, the handset arrives with a single-core 1GHz chip and 512MB of RAM. The biggest caveat is the storage - the ZTE Tania only has 4GB of internal memory and there are no options to extend it. That's where ZTE has cut a corner, and it's up to you to say whether this is a deal-breaker, but it's definitely something that you should consider.
The handset also lacks a front camera, but has a 5-megapixel shooter on the rear. The handset is available on Virgin Mobile, BrightPoint and Go Mobile with plans ranging to £20 a month with an off-contract retail price of around $390 (£250).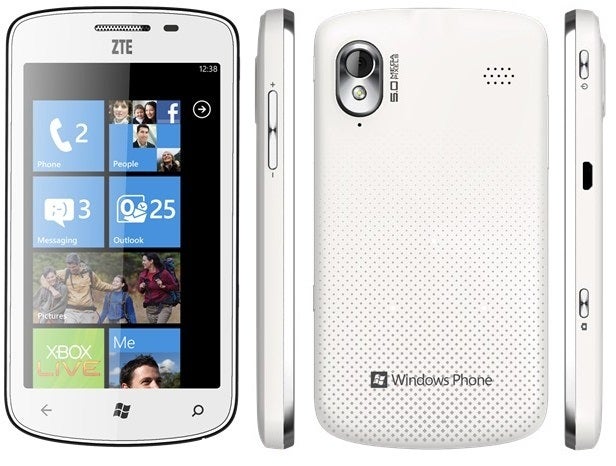 ZTE Tania with Windows Phone comes to the UK
19 January 2012, London – ZTE Corporation ("ZTE") (H share stock code: 0763.HK / A share stock code: 000063.SZ), a leading global provider of telecommunications equipment and network solutions, has announced the availability of its first Windows Phone device in the UK – the ZTE Tania.
The ZTE Tania is great for both business and personal use, and makes it easier than ever to connect and share with friends, family and colleagues. With 4GB internal storage and a 4.3 inch touch-screen, the ZTE Tania is smart and stylish with a chassis measuring just 10.7mm in depth.
The ZTE Tania comes fully equipped with Microsoft's latest release of Windows Phone. Windows Phone has a wide range of fully integrated functionalities such as a direct link to users' Xbox LIVE accounts, an intuitive and seamless sync for Microsoft Office Mobile, and Zune music streaming. The phone's Live Tile feature brings friend and family groups to life by delivering the latest updates and news from popular social networks, including Facebook, Twitter and LinkedIn directly to the home screen.
The 1GHz processor and ultra-sharp cinematic WVGA 800 x 480px screen make responding to emails, editing documents and browsing the internet fast and intuitive. In addition, the device comes with a five megapixel camera with autofocus and flash.
The ZTE Tania is the most affordable 4.3" screen Windows Phone on the market and will be sold on contract at tariff points between £10-£20. It will be launched with a number of key channels including Brightpoint, Virgin Media, Go Mobile and a leading specialist retailer.
"We're delighted to be working with Microsoft and as a key partner will support the industry forecasted growth on this exciting new platform with both the ZTE Tania and in the future a growing range of devices. Last year, ZTE announced its plans to build market presence with ZTE branded devices with the release of the ZTE Skate, Libra and Tureis. Our first own-brand handset to enter the market in 2012 is the ZTE Tania," said Mr Wu Sa, director of mobile device operations at ZTE UK.
"Having ZTE join the Windows Phone family is great news. Their expertise will be crucial in delivering Windows Phone to new and different customers. We look forward to continuing and developing our relationship with ZTE in the future," said Leila Martine, director of Windows Phone UK.
Market analyst IDC reported in late 2011 that ZTE had become the fourth-largest mobile phone vendor in the world after it shipped 19.1 million units in the third quarter, ahead of both Apple and RIM. ZTE gained an overall market share of 4.9 percent, up from 3.5 percent a year earlier, and was the only Chinese company in the top five. Additionally, Gartner predicts Microsoft will reach second place in the mobile device operating system rankings by 2015 with 20.3 percent market share.