ZTE Star II hands-on
2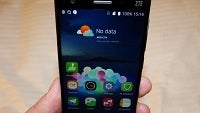 If ZTE was planning on releasing the Star II commercially in the US market, we suspect that the landscape would shift quite a bit from what it will otherwise look like with the traditional players competing for your hard earned money. Announced late last year, the Star II brings a wide array of features that compete handily up to, and beyond today's brand leaders, including voice control capabilities that exceed that of the latest
Motorola Moto X
.
The ZTE Star II's feature set and form factor fits right in with the current crop of high-end 5-inch flagships with their respective full complement of high-end specifications. Reading the spec sheet, and the unlocked price of around $500, the Star II can stand on its own amongst the competition. Couple that with the progress ZTE has been making in expanding its brand awareness, as well as the inroads it has made as a major player in the US pre-paid segment, we are confident that ZTE's product line-up in the US will grow more robust in the flagship segment in the foreseeable future.
Design
While sharing dimensions roughly the same as the
Samsung Galaxy S5
(within 2mm on any axis), the Star II takes its own path from other devices in this segment. Beveled brushed aluminum brims from the sides while Gorilla Glass 3 adorns front and back of the device. Rounded top and bottom edges complete the uni-body design, making for a very clean fit-and-finish.
Compared to most of today's phablets, the
ZTE Star II
feels almost compact without giving up any of the hallmark features. The 2300mAh battery is rated to deliver up to 20 hours of talk time, and two weeks of standby time. LTE and HSPA+ is in tow, with antennas compatible with most global markets.
Display
The ZTE Star II bestows its user with a brilliant looking 5-inch 1080x1920 LCD display. With 441ppi, the panel gives up nothing but a crisp looking amount of detail. Viewing angles look great, and from any distance, the display looks like it is ready and waiting to deliver content.
Interface
Making use of all those pixels is Android 4.4.2 with the ZTE MiFavor 3.0 user interface running on top. The Star II lets you change themes and personalize the UI in a variety of ways. It is a single-layer UI, with no app tray. The distinction is a device-level integration of what ZTE calls SmartVoice, an innovative direct voice activation and control of any app. By residing on the device, SmartVoice can work even when the network is not available to control things like media player, or photo gallery. Also, because it does not rely on a developer using an SDK for their respective app, ZTE claims SmartVoice will work with just about any application installed on the device.
Processor and Memory
Chewing on all content and user commanded tasks is a quad-core Qualcomm Snapdragon 801 CPU running at 2.3GHz and its trusty companion, the Adreno 330 GPU. Managing the apps and content is 2GB of RAM and 16GB of storage. There is a microSD slot which will accept cards up to 64GB in capacity.
Camera
The main camera is a 13 megapixel with an F2.0 aperture and aspheric lens (meaning non-spherical). A dual-LED flash provides the lighting if needed. The camera will capture 4K videos at 30fps and 1080p videos at 60fps. On the front, a wide-angle (88-degrees) 5 megapixel sensor to grab selfies of you and everything around you.
Expectations
When you read through the specs we mentioned, you can understand why we wonder what the landscape might look like if ZTE brought the Star II to the west. While this particular device is not US bound, it is a glimpse into what ZTE will eventually bring to bear as it expands its product line-up and compete in the market. Taking the overall form factor into consideration, we think ZTE is making the right moves by concentrating on building consumer level brand awareness. That way, as users upgrade and evolve their services along prepaid, and prepaid-to-postpaid channels, the eventual arrival of a ZTE flagship will seem like a natural path to follow.