You can now sign up for the Samsung Pay beta test program in the US
19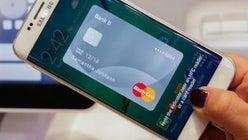 Samsung has started rolling out invitations for the Samsung Pay beta test in the United States. The company's mobile payment platform is scheduled to go live for all on September 28, but if you're eager to test-drive Samsung Pay before the service officially launches, you can now sign up to become a beta tester.
To qualify for an invite to the Samsung Pay beta, users need to own one of the four compatible Samsung smartphones, the
Samsung Galaxy S6
, the
Galaxy S6 edge
, the
Galaxy S6 edge+
, or the
Galaxy Note5
. Furthermore, you'll also need an active Samsung account, as well as a qualifying card from MasterCard, Visa, Bank of America, or US Bank Visa.
One little caveat is that out of all the major carriers in the US, Verizon is the only one that doesn't support Samsung Pay at the moment. Sprint, T-Mobile, AT&T, and US Cellular have announced support for Samsung Pay. If you meet all of the requirements, head over to the source link below to sign up for the Samsung Pay Beta program in the US.
According to a recent report from South Korea, Samsung Pay users in the country have registered more than 80,000 cards in the first week since the service debuted earlier this month. Despite what seems to be a successful launch in Samsung's home market, however, it remains to be seen if the mobile payment system will be able to gain traction in the United States. While the service's main advantage of being compatible with most credit card payment terminals in the US will certainly help with adoption, Samsung Pay will only work on a limited range of high-end Samsung devices, meaning that the potential user base is probably just not big enough to tackle Apple Pay in terms of active users.
What do you guys think? Are you tempted to sign up for the Samsung Pay beta in the US, or will you wait until the mobile payment platform launches in full in late September?