Yet another blurry shot of Dell's Android phone
This article contains unofficial information.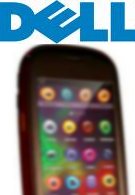 Not a day after someone managed to take a somewhat decent picture of an impending Dell Android powered device, an even more blurry shot came to light today. One of BGR's tipsters took a shot of this tightly held secret – except that it's even harder to make out. We definitely love seeing leaked images of some phone still in development and can understand the need to be stealthy in taking a quick picture of it. Word on the street is that the PC maker is going to introduce both a 2G and 3G model. No specifics yet as to the names of the devices and availability. One thing is for sure though, it's speculated that the UI is inferior to Samsung's TouchWiz interface. Only time can tell whether or not this holds true.
via
BGR