To win a year of free travel, you'll have to do something unimaginable to your Instagram account
1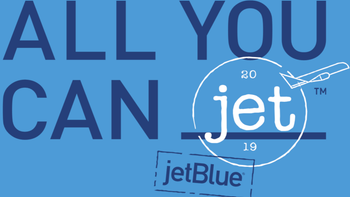 How does a year of free travel sound to you? If you don't mind deleting all of your Instagram photos and videos, and you are a legal resident of one of the 50 states (including the District of Columbia and Puerto Rico) and are 18 and older, you can enter the All You Can Jet sweepstakes. Three Grand Prize winners will win unlimited air travel anywhere JetBlue flies for themselves and a companion for one year. Each prize has a retail value of $20,000. Winners will still be responsible for all taxes and fees.

Entering the sweepstakes requires an Instagram account. You must go to
this JetBlue website
and upload a photo that you have taken. Customize the image by completing the "All You Can ______" caption and download the image. You must then delete or archive all of your Instagram photos and videos, and upload the promotional image you created to your Instagram account. Make sure to include the hashtag #AllYouCanJetSweepstakes and mention @jetblue. The entry must be received before 9am EST on March 8th, and those entering the sweepstakes must keep their Instagram account clear until midnight the same day.
The winner will be notified on or about March 11th (that's a week from today), and travel must take place between April 1st 2019 and March 30th, 2020. One one entry is allowed per person. Sure, removing all of those pictures you have on your Instagram account might be traumatic, but as JetBlue notes, "Don't worry, if you win you'll be able to post pics from everywhere we fly."