Worms 2: Armageddon arrives as a universal app for the iPad and iPhone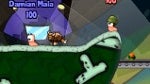 The funny invertebrate warriors of Worms 2: Armageddon have arrived for your iOS device. Available as a universal app for both the iPad and the iPhone, it will ensure hours of carnage for just $4.99.
The game developers from Team17 software have made the title extremely customizable. You can create game styles online, dress up your teams, or get additional speech sets. The single-player campaign spans 30 levels on five new themes, and afterwards comes the "Body Count" mode, just for mindless fun. There are the golden oldies like Ninja Rope and Concrete Donkey, but also the new stuff such, as the Electromagnet, Sentry Gun, Napalm Strike, Armageddon, Poison Strike, Drill and Earthquake.
The game allows for multiplayer, both local (via Bluetooth or Wi-Fi) and online. There is Twitter and Facebook integration, and also 30 achievements to be reached during play. The iPad version has, of course, better graphics and you can flip the screen around to your buddy between turns. All in all, hours of fun ahead, to soothe the long and dark evenings of the winter.
source:
Apple