Windows Mobile powered Babiken V1 features a capacitive display & walkie-talkie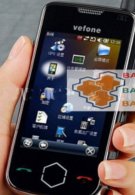 Windows Mobile smartphones packing capacitive displays are still a rarity with HTC claiming the only devices to offer support for the technology. So when another Windows Mobile handset comes along touting its support for the capacitive touchscreen technology, it would undoubtedly catch the gaze of even some of the most veteran users of the platform. The Babiken V1 is a Windows Mobile 6.
5.3
smartphone that's only the third device to utilize a capacitive display as opposed to the resistive ones that dominate the platform, but there is actually another feature that sets it apart from other units. Its integrated walkie-talkie can really come to use for some people as it would eliminate the need to carry on a standalone unit. In addition, it features a 3.2" touchscreens, Wi-Fi, GPS, 460MHz Huwei K3 processor, 128MB RAM, and a 2-megapixel camera. The overall design of the handset is pretty good from what can be seen, but it'd be unlikely for this handset to launch outside of China – but its walkie-talkie feature may be compelling enough for some to import.
source:
PRLog
via
WMPoweruser