Windowed UI for Android 2.2 by Ixonos
2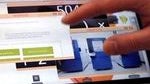 A different approach to multitasking on a tablet was demonstrated at MWC by a Finnish company called Ixonos. Shown off was a windowed UI built for Android with the intention to bring "proper" multitasking to tablets. As expected, the interface allowed the flexibility of working simultaneously with multiple applications like watching a video while taking notes, for example.
Having apps running in their own separate windows looks very similar to what people are used to seeing on their desktops. Also, options such as resizing, maximizing, and dragging windows have not been omitted. As seen in the video below, the UI appears to be running fairly smoothly for a demo build, but may make the single, 7-inch display it was demoed on seem a bit cramped from time to time. On the other hand, running on a dual-screen tablet is where the interface proves a bit more practical.
Since it will not be supported in Honeycomb, a windowed UI for Android may not seem like a bad idea after all. With a little polishing, Ixonos' interface may attract market attention and start making fans.
source:
TrustedReviews
via
Engadget