Win two tickets to Game One of the 2018 World Series from T-Mobile
0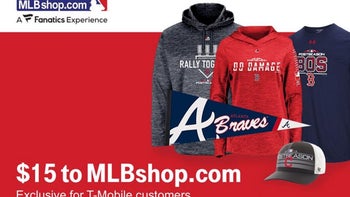 This coming Tuesday, October 2nd, you can enter T-Mobile's new sweepstakes that offers one grand prize winner and a friend, a three-day, two-night trip to attend Game One of the 2018 World Series. While this is being done in conjunction with T-Mobile's weekly giveaways to its subscribers, non-subscribers can also enter and try to win the trip. The grand prize includes accommodations, travel, two New ERA baseball caps, two jerseys from the MLB Shop, and a check for $1,875 to cover taxes. The prize is valued at $6,250.
This coming Tuesday, a T-Mobile subscriber can enter the contest by opening the T-Mobile Tuesdays app to submit an entry. A non-subscribers can receive one entry on the same date by going to amoe.t-mobiletuesdays.com. And while we have no idea which city the game will be in, Game One is scheduled to take place on October 23rd.
Meanwhile the weekly giveaways for this coming week's T-Mobile Tuesdays include:
Last minute concert seats in sold out sections from Live Nation.
$25 concert seats from Live Nation.
$15 to use at MLBshop.com.
$25 off sports tickets from fanxchange.
$2 Dunkin Donuts card (soon to be called Dunkin).
The giveaways can be claimed in the T-Mobile Tuesday app.