White Samsung Galaxy S II hitting Orange and T-Mobile UK
1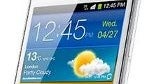 It is always nice to see a smartphone get a new paint job and T-Mobile UK and Orange customers will have the chance to check one out when the Samsung Galaxy S II becomes available in white.
The Samsung Galaxy S II is a hit around the globe with its dual-core 1.2GHz processor, its gorgeous 4.3-inch Super AMOLED Plus display and its sleek, attractive design. It didn't do too much looks wise to separate itself from its competition though. Yes, it may have run circles around them in terms of performance, but sometimes it's the look and the uniqueness of the device that attracts customers to it. The white exterior will help it stand out in a crowded field of competition for some customers when performance isn't a deciding factor.
Orange and T-Mobile UK aren't the first networks to get the white version of the Samsung Galaxy S II, but they hopefully will not be the last. There is no official date for the release of this smartphone, but it should become available sometime in September. Tell us what you think in the comments below.
source:
Into Mobile