Watch Samsung's magical full IFA 2012 event here: Note II, ATIV lineup and Android camera unveiling
2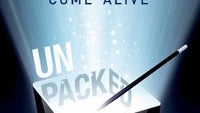 Yesterday, Samsung stood and delivered. But not just that - Samsung entertained us with an event featuring magicians with their wans, hats and tricks, with giant screens and most importantly tons of exciting new devices.
The full video of Samsung's 2012 IFA event is now online and you can dive in to experience the atmosphere if you missed it yesterday. After all, the Koreans introduced some of the most exciting devices we've seen in a while - a brand new 5.5-inch Galaxy Note, a ton of Windows 8 and Windows Phone 8 devices and a huge surprise in the form of an Android 4.1 Jelly Bean-powered camera.
You'd also get to see Samsung's JK Shin with his unique appearance and ever-entertaining accent, you'd get to see some of the most acclaimed film directors of our time Wim Wenders and hear some enchanting music. It's all out in the video below, but let us know whether you feel the same way we do about this Samsung event - it seems that the Koreans have really polished their presentations, doesn't it?
source: Samsung
Recommended Stories