VideoSurf is Shazam for movies and actors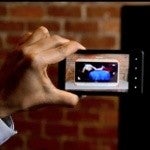 An application called
VideoSurf
, which is a video counterpart of the popular song recognizing app Shazam, is soon to be available on "selected
Verizon
-branded 4G devices".
This app is going to be of great help when you watch a movie and recognize an actor, but can't quite remember what his name was. Rather than go to imdb.com, VideoSurf offers you an easier solution - take your phone out, point it at the screen and, in a few seconds, you'll know what's "that lad's name I just can't quite remember".
In the words of Lior Delgo, CEO and co-founder of VideoSurf:
"Use your smartphone to capture a few seconds of what you're watching on TV and VideoSurf's visual search technology will identify the clip and the actors, and suggest other videos to watch."
Sounds great, really and we can't wait to test it ourselves. Sadly, no additional info is available about which "selected 4G Verizon handsets" will get VideoSurf. Furthermore, this is a free, US-only app and it's an open question whether non-Verizon customers from around the world will get the chance to taste it.
source:
VideoSurf
via
Android and Me