Video shows off the updated looks of the upcoming Twitter 2.0 app for Android
1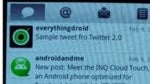 With almost every new software update out there, there is no shortage of changes that come along with its release, but for some people, adverse cosmetic changes can take some by surprise.
Well, if you happen to be an avid user of the
official Twitter app for Android
, just hold onto your seat because the upcoming 2.0 version aims to erase all the cute factor found with the existing one. The team over at EverythingAndroid got the opportunity of checking out the upcoming Twitter app for Android – and boy does it choose
efficiency over appearance
. In fact, the video shows off some of the visual changes that are expected to come along with the latest update.
Are you currently well-adjusted with the existing look and feel of Twitter for Android? Well, you might just want to hold off from making the jump with the upcoming new version to let it soak in. But then again, if you prefer getting the most functionality and efficiency from Twitter, then this might be the version you've been waiting for.
source:
EverythingAndroid
via
MobileCrunch