Vhedz is the brainchild of Damon Wayans, a cool new entertainment mixed-media app for Android and iOS
1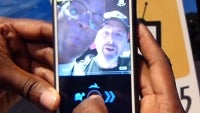 We have all seen it, pictures on social media that don't tell the whole story. How many misunderstandings or trolls could be avoided with just a bit of context?
This was a frustration of comedian and actor Damon Wayans, known for his roles in In Living Color, Major Payne, The Last Boy Scout, and other productions. Wayans has been busy at work with a company he founded called akabe5, coined after the names of his grand-children.
Akabe5 has prepared a few mobile applications, albeit without a lot of fanfare. The latest app, Vhedz, had a soft-launch last December, and now Wayans is making a push to get his new app in the forefront.
Vhedz is a mixed-media app that connects to all your favorite social media services, email, or MMS, and lets you engage in a new way. Take a picture and insert your own video (up to 15 seconds) explaining what you are really doing. You can insert and resize your image for on-the-spot editing before you share as well as create memes and drawings directly on the image.
You can also add music from your library and follow friends in a dedicated feed if you want. Indeed, the limits seem to lie only in one's own creativity.
Download Vheds for
Android | iOS