Verizon's BlackBerry Tour 9630 to get OS 5.0 on Tuesday?
This article contains unofficial information.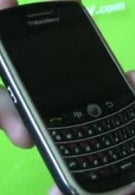 When the BlackBerry Storm 9530 received the 5.0 operating system, it was as though a light switch was turned on and the smartphone was improved tremendously, obtaining features that most smartphones usually have out of the box. The first-gen Storm was like a brand new device after it started being powered by the new OS. According to a tipster who passed along the word to BGR,Verizon is ready to send along the 5.0 OS upgrade for the BlackBerry Tour 9630 this Tuesday. In addition to having the usual laundry list of items, the 5.0 upgrade will bring "Push-to-Talk" capabilities to the phone. The service will cost you $5 a month. Before you tell yourself that you need to move up to the Bold 9650 (which will give you an optical trackpad), why not see if this new OS takes the Tour to places that you could only dream of before. Now those of you with the Sprint version of the Tour, there is no word on when your carrier will offer the upgrade, but you might just want to make a friendly call to customer service to find out.
BlackBerry Tour 9650 Specifications
|
Review
source:
BGR