Verizon gets Black Motorola Q, AMPd gets one, too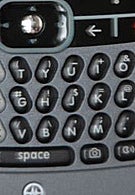 Over at Howard Forums appeared images of a new Black Motorola Q phone with Verizon Logo over it. The poster claims that the case also has very nice rubber feel added to it, but there is no information if that's new improved version of the Q or just a Black one.
Black Motorola Q for Verizon Wireless
Another person shows dark-grey Motorola Q phone branded with the AMPd logo over it, which will make the carrier the first MVNO to offer Smartphone. It seems that the AMPd Q will has a new flash interface added and support for stereo music over Bluetooth. The poster claims this version of the Q will have 3-megapixel camera (instead of 1.3 in the original) but we guess this is a mistake and it will have just minor software changes when compared to the first Q.
Motorola Q for AMPd Mobile
Source: Corys00 and Kick_the_Spike