Google confirms more Pixel tablets are on the way
3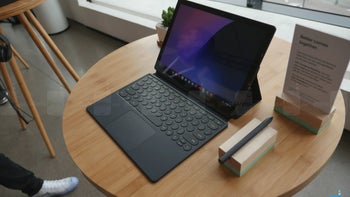 The Android tablet market was once much riches with many more options than the iPad market, but as consumers shifted their attention to smartphones with big displays, many companies have decided to shrink their tablets portfolio or drop it altogether.
Google has adopted the same strategy in the last couple of years. Even though the
Pixel Slate
was launched about six months ago, this is a 2-in-1 tablet and laptop rather than a pure Android tablet. The last such product Google released on the market is the Nexus 9, an Android tablet built in collaboration with HTC, which made its debut on the market back in 2014.
Samsung on the other hand, along with a couple of other Chinese companies like Lenovo and Huawei, has continued to launch Android tablets on a regular basis. Of course, the same applies to Apple, as the Cupertino-based giant now owns an impressive iPads portfolio.
All information coming from various sources painted a rather bleak picture for the Android tablets segment, as
Business Insider
reported last month that even Google plans to move dozens of employees from its laptop and tablet division to other posts within the company.
The report cites "roadmap cutbacks," but also points out that team members have been advised to find new roles "temporarily" within Google or Alphabet. The fact that people working for the laptop and tablet division were supposed to find temporary roles in other teams suggests that Google may decide to boost staffing on these teams at any time.
At the beginning of the week, at Cloud Next 2019, Google hosted a conference, suggestively named "Introducing Google Hardware for Business," where it reiterated that a new device to help the workforce "be production on-the-go" might be launched soon,
9to5google
reports.
The tools they have aren't really conducive to the lifestyle and work style that makes them maximally productive and excited about going to work every day. And we think there are some unique things we can do differently than the Pixelbook and Pixel Slate that are going to really help give them what they're looking for when they're working in this new modern cloud-first era.
A Pixel Slate sequel is more likely rather than a traditional Nexus tablet
Google also mentioned that although it doesn't have any announcements ready to go live regarding the upcoming laptop/tablet this week, such a product will certainly be revealed "down the road."
Although statements made during Google's Cloud Next 2019 even allow us to make some predictions the company's plans for the laptop and tablet division, it's impossible to tell what the search giant wants to do "differently than the Pixelbook and
Pixel
Slate."
Interestingly enough, Steve Jacobs, Pixelbook Group product management leader, who stated the above, coordinates three different categories within Google's Core Technology group: Pixelbook, Pixel Slate, and Emerging,
The Verge
has learned.


Google's new strategy suggests that the era of traditional Android tablets might be over, and a new chapter is now opening up for the company. It appears that Google will continue to bet on the 2-in-1 tablet and laptop Android devices, but we're rather curious to see how these devices will be different compared with the Pixelbook and Pixel Slate.

It's also worth mentioning that Google admitted that it's actively working on a new ecosystem that would theoretically replace the Android and Chrome OS at some point, which is known as Fuchsia. For the time being, Fuchsia remains just an experimental project that might never be greenlit, but it's quite possible that Google sees it as a great candidate to power its next 2-in-1 laptop and tablet, or whatever it decides to call it.
Meanwhile, Google has a few other important launches spread throughout the year, including Android Q that's expected to drop in August, and the next-generation of Pixel smartphones, which are likely to go on sale this fall.