U.S. Cellular to sell AWS spectrum to Verizon
2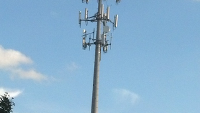 A subsidiary of U.S. Cellular is involved in negotiations with Verizon over the sale of 20 MHz of AWS-1 spectrum. FCC documents reveal that Barat Wireless is offering the spectrum that covers 53 counties in Illinois and Missouri. If the deal does close, the nation's largest carrier will own 62-117MHz of spectrum within that Cellular Market Area. 40MHz of the spectrum would be AWS-1. Pricing of the deal has not been disclosed.
Verizon has begun to add LTE to its AWS spectrum which could help the carrier offer 20MHz X 20MHz channels in certain markets. That would allow Verizon to offer faster network speeds in some areas of the country. A spokesman for Big Red said that it is activating 4G service on its AWS spectrum in a number of markets. He added that a limited number of Verizon devices are AWS compatible and others will receive a software update to become so.
While Verizon wouldn't specify on which markets feature LTE on AWS spectrum, or how fast the service will be rolled out, the operator's chief network officer did have some details. Nicola Palmer says that Verizon will deploy 5000 AWS sites this year and many more next year. Verizon will add AWS antennas to existing cell sites. T-Mobile currently uses AWS spectrum for its rapidly expanding LTE service, which covers 200 million POPs. Outside of the AWS spectrum that it has deployed LTE with,Verizon uses its 700 MHz C Block spectrum for its LTE signal which covers 300 million POPs.
source:
FCC
via
FierceWireless