Typic+ adds captions to your BlackBerry 10 photos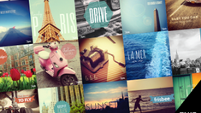 BlackBerry 10 has a cool new (for the platform) captioning app called Typic+. The freemium app allows you to add frames, captions, filters and more. It comes with 35 fonts with another 49 available as an in-app purchase. It also comes with 36 design elements which can be expanded by another 48 with an in-app purchase. These elements allow you to add shadows, change colors and sizes. As long as your wallet is fat, your pictures can come out phat.
A 21 color palette works with all of the fonts and designs. And a button at the top of the app allows you to change the caption with a quick change of the font. After you make the changes to each photo, you can share them with your social media pals via Twitter, Facebook or Instagram. You can also email the pictures you edit to friends or family, and even save them on your device.
Typic+ is free from BlackBerry World, and the in-app purchases can take it to another level. If you're looking to dress up the photographs you take with the camera on your BlackBerry 10 device, check out the app now.
Typic has been around for some time already, as an app for iOS, and is now ready to work its magic on photographs taken by BlackBerry 10 users.
source:
Typic+
via
BerryReview