Tylt announces sweet new VÜ wireless chargers for large-screen smartphones like the Nexus 6
3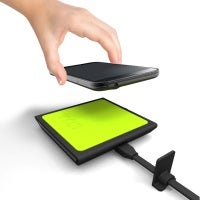 Are you all excited about the Moto DROID Turbo and Nexus 6? We bet you are! Top of the shelf specs aside, these wireless charging beasts pack beefy power cells that need their electricity like a hungover rock star needs pickle juice. Tylt, which has been making sporty-looking wireless chargers since wireless charging is a thing, announced two proper fit accessories to get you going - the VÜ SOLO Wireless Charger and VÜ Wireless Charging Car Mount.
The VÜ SOLO is fed through a micro-USB input so it can share the same charger as any micro USB charging cable or a car charging cable. It also ships with a proprietary mobile phone alignment system - ALIN. Position the ALIN to suit your device so that the coils in your phone are aligned with the coils in the SOLO, and that's all it takes to get the juice flowing. It provides a 1 Amp charge and 5 watts of power. The accessory costs $40, which is a very reasonable price for a new wireless charger by the way.

The VÜ Wireless Charging Car Mount acts as both car mount and smartphone wireless charger. Attach your device, secure it with the holding arms, and get charging. The mount uses the Qi standard three coil system, which allows for easy placement of the phone and ensures it will work with all Qi Phones. There's an adjustable foot base on the mount that allows you to move your phones coil position down and accommodate larger phones - such as the Nexus 6 (Google used to call it "killer whale" for a reason!) or the Galaxy Note Series. The accessory boasts an extra-strong Micro-Gel suction cup, and has a 180-degree rotating mount. It costs $80.