Triple-SIM Acer Liquid X2 to be released in January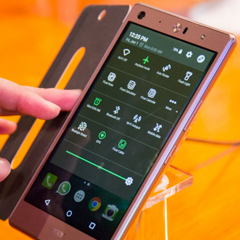 Back in April, Acer unveiled an interesting smartphone called
Liquid X2
, without saying when and where it would be released. Now, we're hearing that the handset is ready to be launched starting January (yep, that's in 2016).
According to Malaysian website SoyaCincau, Acer confirmed that the Liquid X2 would be available starting the first month of 2016, at least in Asia.
Design-wise, the Acer Liquid X2 resembles a Sony Xperia handset. It's not a high-end device, but it can hold three LTE-ready SIM cards (that's a rarity when it comes to phones made by well known companies), and includes a generous 4000 mAh battery. These two features alone might be valuable to many customers out there.
The X2 also offers a 5.5-inch display with 720 x 1280 pixels, two 13 MP cameras (on the front and back), a 64-bit octa-core MediaTek processor (unknown model), near-stock Android, 3 GB of RAM, and 32 GB of storage space. The smartphone comes with a special flip cover that lets you peek at notifications without opening it.
At the moment, there's no word on the price of the Acer Liquid X2. Assuming you like it, how much would you be willing to pay for this smartphone?
Acer Liquid X2
source:
SoyaCincau