Tim Cook says next iPhones will have "things you don't know you need today"
99+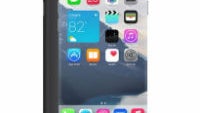 We noted recently that the drop in iPhone sales is a
troubling sign for Apple
and one that the company needs to rectify or find a way around in order to appease investors and Wall Street, which expect big things from the company. Tim Cook has decided that vague promises of amazing things from the next iPhone might be a good way to boost sales.
Cook appeared on CNBC where he said the next-generation of iPhones would be quite impressive:
We have great innovation in the pipeline, like new iPhones that will incent you and other people that have iPhones today to upgrade to new iPhones... We are going to give you things that you can't live without, that you just don't even know you need today...You will look back and wonder 'how did I live without this?
Cook went on to reiterate how excited he and everyone at Apple is about the innovation that's in the pipeline. Of course, none of these quotes actually mean anything. Take a look at any smartphone in anyone's pocket right now -- Android, iOS or even Windows Phone -- and there's a fair chance people would wonder how they ever lived without it. Smartphones are amazing and essential pieces of technology. There's a reason why you can always find polls that show more people would give up sex before giving up their smartphone.
So, it's hard to imagine what Cook might mean with that sort of promise. The rumors have said the next iPhone would have a
dual-camera system
and stereo speakers, but those hardly seem like things people can't live without (especially since they can be found on other phones right now). There have also been rumors of
wireless charging from distance
, which would get closer to fulfilling that promise.
Only about four months before we find out though.
Recommended Stories