Tim Cook meets Nintendo executives in Japan, gets to play a preview of the first Mario iOS game
10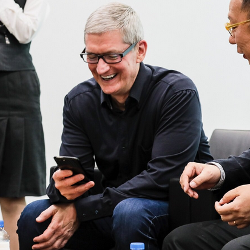 Perhaps the biggest cheer at the event held last month by Apple to introduce the new iPhone models, came when it was announced that
Mario would be making his first appearance in an iOS game
. Apple CEO Tim Cook got to play a preview of
Super Mario Run
when he took some time to meet with Nintendo executives yesterday.
Cook is in Japan this week having arrived from Shenzhen, China. There, he announced Apple's plans to open an R&D center in the country sometime in 2017. China remains a very important market for the tech titan, and building the R&D center allows Apple to show the Chinese government how serious it is about growing its business there.
In Japan on Wednesday, Cook disseminated a tweet which included a picture showing the executive playing Super Mario Run. Cook was sampling the game while Mario's famous creator Shigeru Miyamoto looked on. The endless runner game allows you to earn coins as Mario runs over obstacles. The longer you touch the screen, the higher the iconic Nintendo character jumps. The game is expected to launch this holiday season as a paid app.
source:
@tim_cook
via
AppleInsider