Three new Motorola clamshells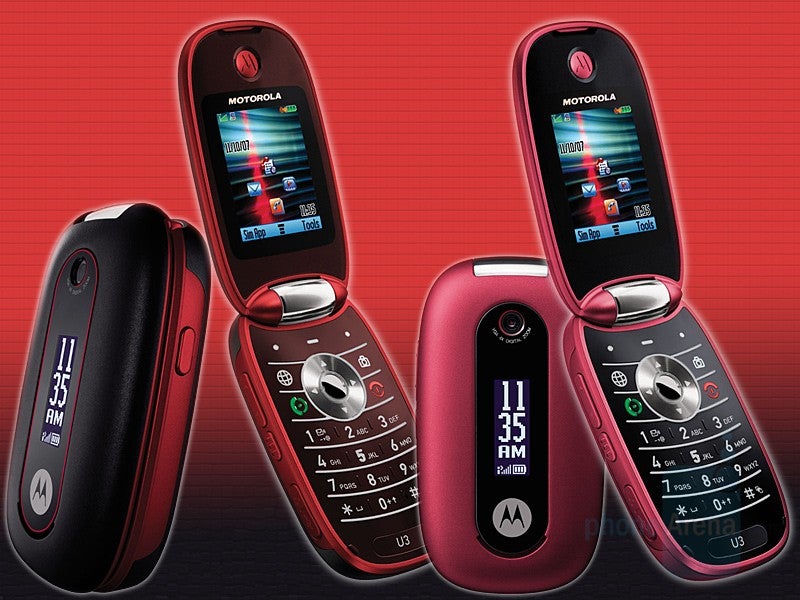 Motorola U3
We got our hands on exclusive images of still unannounced Motorola phones that will probably be available soon. The three clamshells are not positioned in one segment of the market, due to the totally different design and functionality they have. The one is for the youth, being a music phone, the other is "cute" PEBL-like shell and the third is an iDEN device.
The
Motorola U3
is very similar to the
PEBL U6
but due to the now outdated specifications, will be positioned in the budget segment. Although not much is known about the features, we can see that the camera has only VGA resolution (0.3 megapixels) and it seems that there is no memory slot. The U3 will be available in two color versions: combination of black and red, called "Licorice" and in all-Pink, called "Rose".
The
Motorola ROKR W5
will deliver music for the masses. It resembles the budget models like the W510, but is colored in black-and-orange combination and has new ROKR label on the front. It is most probably a quad-band GSM/EDGE phone with 1.3 megapixel camera and microSD slot for memory. The screen shows a new music player that will rival Sony Ericsson's "Walkman" player.
The third new phone is the
Motorola i570
and as it can be seen from the model, it will used iDEN networks, which means that Sprint (Nextel) will most probably offer it if it comes to the States. As one can expect, it is rugged with stub antenna, but to look friendlier, Motorola has colored it in two-tone grey (light and dark) and with yellow trim around the external display and the side key. It will come to Telus (Canada) but we hope it will also find its way to the US market as well.
Motorola is also preparing an
all-black variant of the Z8
, which unlike the original won't have the yellow-green elements.