This coming week's T-Mobile Tuesday will leave you with a gassy feeling
4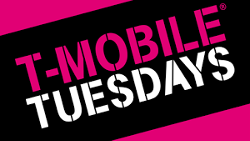 Guess what folks! The next T-Mobile Tuesday is just days away, and we have the list of giveaways and contest prizes that T-Mobile customers will be receiving and trying to win. Let's start with the giveaways. T-Mobile subscribers will get $25 off their bill at any of the 62,000 restaurants and providers listed on the site. T-Mobile subscribers can also head to the nearest RedBox nearby and get a free one-day DVD, video game or Blu-ray rental.
For four-weeks, T-Mobile will set up its subscribers with a free online course from Shaw Academy. Courses taught will include social media marketing and personal nutrition. Lastly, T-Mobile customers will save as much as $5 on Shell gasoline by receiving a 25 cent per gallon discount on the fuel, for up to 20 gallons.
This coming week's contest will feature two Grand Prize winners. Each will get $2,000 in Shell Gift Cards and a check for $855. The latter can be used to pay taxes on the prize, or to pay for anything else at the winner's discretion. Twenty First Prize winners will receive a $40 Shell Gift Card, and Two-Hundred Sixty Second Prize winners will be sent a $25 Shell Gift Card.
Overall, this coming week's gassy contest includes 282 prizes with a total value of $13,010. Good luck!
source: T-Mobile