This coming week's T-Mobile Tuesdays includes a freebie that will keep customers' phones dry
1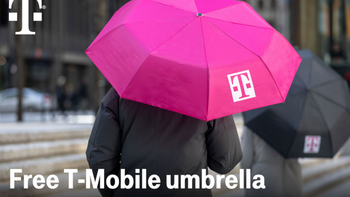 Since June 2016, T-Mobile has thanked its customers by giving them discounts and freebies from third-party companies, and T-Mobile itself. The program, called T-Mobile Tuesdays, allows qualifying subscribers to collect their gifts by opening the T-Mobile Tuesdays app. And every so often, there is a sweepstakes with a major prize;
recently the carrier gave away a Samsung Galaxy S10e
.
This coming Tuesday, T-Mobile subscribers can score a free T-Mobile umbrella that will keep them and their handsets dry. A promotional image used by the carrier makes it appear as though the umbrella will be available in magenta and black. Both umbrellas have the T-Mobile logo printed on them.
Other giveaways available from the T-Mobile Tuesdays app on March 19th include:
A free taco from Taco Bell (available weekly until further notice).
$4 movie ticket from the Atom app.
50% off LegoLand tickets.
The opportunity to buy tickets to see Ariana Grande from Live Nation.
Free 1-night disc rental courtesy of Redbox.
10 cents off each gallon of gas from Shell (up to 20 gallons each week).
And this week, you can win a three-night trip for you and a guest to Los Angeles. This includes a three night stay at a $500 per night hotel (Ace Hotel Downtown), dinner for two at Best Girl (up to $125 total), $1,000 worth of movie tickets from Atom and a Visa Gift Card valued at $2,500 (which you can use to buy the
Samsung Galaxy Fold
and still get change back). In addition, T-Mobile will cut you a check for $2,142 that can be used to pay the taxes on the prize, or for spending money while in L.A.
To enter the sweepstakes, you must be a U.S. resident 13 years of age or older. Starting at 5am ET on Tuesday, and running through 11:59pm Monday, March 25th, T-Mobile customers can submit an entry through the T-Mobile Tuesdays app. If you're not a T-Mobile customer, you can still enter the contest by heading to the amoe.T-MobileTuesdays.com web page. The value of the Grand Prize is $7,142. Good luck!