The master shows us how it's done, the Galaxy Note 3 and iPhone 6 Plus do indeed blend and a challenge has been issued
20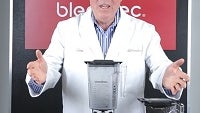 You no doubt remember when the slow-motion specialists at RatedRR, and their play on the bellwether blending company Blendtec. Ryan and his team thought they might pull off
their own version of "Will it Blend"
during six days of
iPhone 6 Plus torture
. As it turned out, blending is not always that easy.
Shortly thereafter, Blendtec's founder, Tom Dickson was on-set in the company's top secret laboratory, and showed us how it's really done with a genuine version of "Will it Blend?"
In this case, Tom didn't just focus on one phablet, but two. The
iPhone 6 Plus
, of "
bendgate
" fame was on hand, as was a
Samsung Galaxy Note 3
. He threw a barb at Nokia for good measure. Then he ribbed RatedRR with a little "who's copying who," and flipped the switch. Both devices were rendered to dust, "where's the plus?!"
It gets better though, Tom being a good sport, offered Ryan a hand-up, and challenged him to join the Blendtec team on-set to blend some gadgets the "right" way. Ryan accepted the challenge and we look forward to seeing what these two minds conspire to create...or destroy.