The iPhone 6 Plus goes for a skydive, sans parachute
9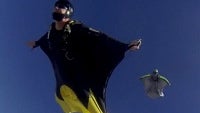 Six iPhones, six days of torture and destruction, starting with a small container of liquid nitrogen, continuing on by shattering from the force of a bullet, and melting thanks to small pot of thermite.
The RatedRR team took to the skies out of Perris, California, home to one of the largest dropzones in the world, Perris Valley Skydiving. Rick Ryan, the slow-motion video artist behind RatedRR, is also an accomplished skydiver.
Equipped with several GoPro cameras, a few wingsuits, an
iPhone 6 Plus
(the last of the six RatedRR picked up on opening day), a GPS tag, and of course, parachutes for the jumpers, the gang climbed aboard Skydive Perris' famed "Shark Air" Twin Otter and took to the skies above the southern California desert.
The hapless iPhone was dropped from an altitude somewhere above parachute deployment, several thousand feet at least. The idea was to use "Find my iPhone" if there was any chance of the device surviving the impact. Failing that, the GPS tag would do the trick. Remarkably, the iPhone still worked, suffering only a shattered screen. Terminal velocity certainly lent a hand to the iPhone's survival, but at least it did not
appear to bend
.
This is something we have seen before, a few years ago a jumper
lost his iPhone 4 while in freefall
, only to have the device continue working despite the broken glass.
So we now come to the end of what has been six entertaining days of various ways an iPhone 6 Plus might suffer its demise. The realistic applications for some of these are far outside the realm of common or realistic activity, but at least you know what could happen if your device is dipped in
frigid liquid nitrogen
, ends up in
a blender
, gets
dunked in water
, shot
with a 50-caliber
sniper rifle, melted
by thermite
, or dropped from a plane. For those wondering "what's the point," you are missing the point.