The latest Galaxy S6 teasers, HTC One M9 Plus specs, and the newest Snapdragon SoCs: weekly news round-up
2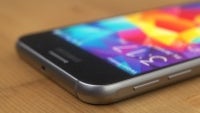 Another week has come and gone in a flash, meaning that it is time for our weekly news round-up. We've once again put together the most interesting stories from the past seven days, and to no surprise, the Galaxy S6 rumors are high on the list. Samsung itself has been teasing the announcement of its next flagship for days, hinting that it will be a mighty fast handset – nothing out of the ordinary, of course.
You know what's also going to be fast? The next flagship phone from HTC. Believed to be named the HTC One M9, the device will be officially announced on March 1.
And for those who are into premium tablets, Samsung is working on something that should grab your attention. Rumor has it that a couple of premium Galaxy Tab S2 tablets are coming in the near future. Who knows, perhaps we'll get to see them next week at MWC.
For more of last week's hottest news, check out the slideshow below!