The iPhone 4 gets a taste of 3D with the help of this protective case
5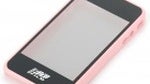 DealExtreme is an online store where all kinds of fun, random gadgets can be found, and the
glasses-free 3D case for the iPhone 4
is no exception to that rule. By snapping onto the front of an iPhone 4, this funky-looking plastic case brings the third dimension to the smartphone with is magical transparent film, which covers the handset's display. It doubles as a protective case as well when snapped onto the back of the device.
Sounds cool, doesn't it? Well, going over the item's description shows that there is a catch to the whole deal. In order to experience the 3D effect, you need to get a hold of 3D content, which the internet is not abundant with at this time. Luckily, a demo CD with sample 3D files and a "random movie" is thrown in the set.
But how well does this iPhone glasses-free 3D gizmo work in real life? Well, the gadgets that DealExtreme offers are not known for being of any exceptional quality, but if you are willing to give it a shot anyway, the case can be bought for $23.