The Lenovo YOGA Tablet 2 8 Windows with AnyPen has a unique superpower - what do you think it is?
8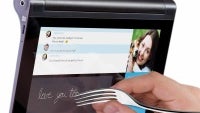 Lenovo brought a new tablet at CES, and
just like the last time we heard about its slates
, the device is most interesting! The latest Lenovo 8-incher boasts the company's new, and profoundly amusing AnyPen Technology among its spec sheet full of top-shelf hardware.
AnyPen lets you treat any metal object in your surroundings as a improvised stylus and draw on the device's 1080p 8-inch IPS touchscreen. A ballpoint pen, a knife, a fork - things you normally wouldn't let anywhere near a tablet now become temporary replacements for the stylus you lost moments ago, for the n-th time today. Slippery little things, aren't them styli?
In addition to the AnyPen wizardry, the Windows 8.1-powered YOGA Tablet 2 offers a 64-bit Intel Atom quad-core processor, 2GB of RAM with 32GB of internal storage, stereo speakers with Dolby Audio and Wolfson amplification, an 8MP auto-focus main camera, a 1.6MP front cam, and is powered by a 6400mAh non-removable battery. By the way, battery life is rated at up to 15 hours! The tab measures a compact 8.3 x 5.9 x 0.1in and weights 0.94lb.
Price & shipping are set at a comfortable "$299, January 2015". Unlike Lenovo's newly announced smartphones and accessories, this one will come to the USA.
source: Lenovo
Lenovo YOGA Family Takes Flexibility and Interactivity Even Further with New Technologies
Debuts "AnyPen Technology" on Tablet and Optimizes YOGA for Business with 3D Camera
LAS VEGAS – January 5, 2015
– Lenovo (HKSE: 992) (ADR: LNVGY) today announced at the 2015 International Consumer Electronics Show its new lineup of YOGA convertibles and tablets with new technologies that take flexibility and interactivity to a new level. The family includes the thin and light YOGA 3 in 11-in and 14-in models (in a 13-in chassis) built especially for today's on-the-go and digitally-hungry consumers; the ThinkPad YOGA, optimized for businesses in a 12-in model, and a 14-in and 15-in model for prosumers; and the 8-in YOGA Tablet 2 with Windows, featuring Lenovo AnyPen Technology, that turns nearly any pen into a tablet writing tool. No More Fingers, Lenovo AnyPen Technology Turns Pens and Pencils into Tablet Writing Tools. The 8-in YOGA Tablet 2 with Windows featuring AnyPen Technology extends the YOGA family tradition: the hardware not only adapts to users with its four modes, but it also provides a new, innovative writing solution that gives users a better way to interact with their device and distinguishes it from other tablets today.

With Lenovo AnyPen Technology, any pen or pencil becomes a handwriting tool – no stylus needed. Consumers can pick their preferred tool and use it directly on the tablet's touch screen for easy navigation instead of relying on their finger. Lenovo AnyPen Technology makes handwriting on a tablet now as intuitive as writing on a piece of paper. Users will find this technology especially handy because smaller screen devices require more precise navigation than a finger. At the same time, Lenovo AnyPen Technology eliminates having to replace lost designated touch screen only styluses and the expense of purchasing one separately.


As part of the YOGA Tablet 2 family announced in fall 2014, the YOGA Tablet 2 8-in with Windows drew acclaim for its enhancements over the original YOGA Tablet. Not only does it have four unique modes unlike any other tablet on the market – Hold, Tilt, Stand and Hang – giving users more ways to do more, but it also features an unparalleled entertainment experience. Equipped with two front facing speakers, Wolfson Master Hi-Fi noise reduction and Dolby audio, this compact tablet goes large on entertainment. With Windows 8.1, its 8-in FHD display and Intel® AtomTM processor, users can strike a great balance between work and play. And mobile consumers will appreciate its extremely long battery life of up to 15 hours.