The Lenovo Pocket Projector blows up your smartphone screen to 110" with a 50-lumen shine
5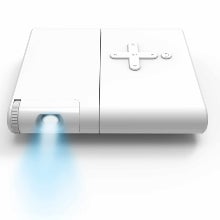 Lenovo just outed a mucho sympatico 50-lumen pico projector that comes with dual speakers, 110" maximum projecting size, and can rotate 90 degrees for the best viewing angles available on your camping trip.
Scare the bears away by streaming a hunting YouTube clip on the wall of your tent with the high-contrast LED light source, via DLNA or Miracast connectivity, if you are into the whole wireless thingy, or simply connecting it via the microUSB port of your Android, iOS, or Windows Phone device.
The Lenovo Pocket Projector can last up to 2.5 hours on a charge, which means that you should be able to stream your average movie, even away from a power source, before the battery gives up the ghost. The native resolution is 854x480, and with contrast ratio of 1000:1 you should be able to tell what's what unless it is a bright sunny day.
Lenovo's pico projector even has a microSD slot that takes up to 32 GB cards for media storage, and the thing is just 104mm (w) x 25mm (h) x 00mm in dimensions, weighing about 170g (0.37lb), meaning it is a true Pocket Projector, just as the tile says. How much? Just $199, which is better than all such offerings on the market, and with superior specs to boot. The Lenovo Pocket Projector will be available as soon as this month in all regions where the company has retail presence. What do you think, keen on something like that?