The HTC 10 will be available from Sprint on May 13
2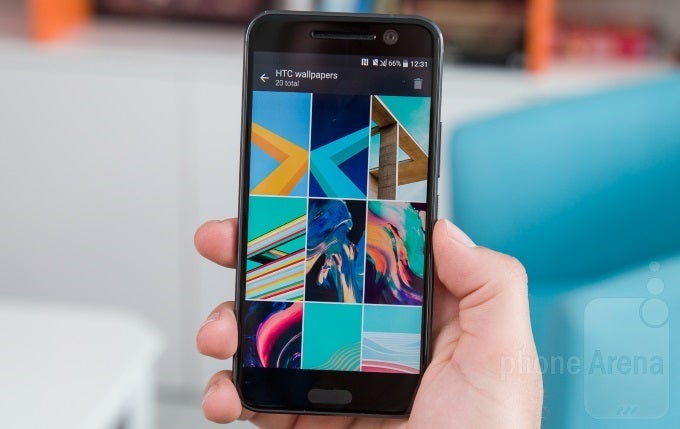 U.S. carrier Sprint announced that it will start selling the new HTC 10 on May 13. The chamfered metal Android flagship will be up for $0 down and $26/mo on a two-year plan at the carrier's website, phone line, and its retail stores across the States.
Subscribers can take advantage of the carrier's LTE Plus network, which supports carrier aggregation for a higher bandwidth and faster data speeds (in excess of 100Mbps download on capable devices like the HTC 10). Moreover, Sprint is eager to give switching subscribers 50% off the price of their current carrier's rate plan and cover switching fees at up to $650 per line. Talk about cut-throat competition!
Moreover, customers who aren't satisfied with the service can return their phone and get a refund for the device's cost and service charges within 30 days.
Also read:
April 29, 2016
HTC 10 Launches on Sprint LTE Plus Network on May 13
Only Sprint offers the industry's best 30-day satisfaction guarantee
OVERLAND PARK, Kan. (BUSINESS WIRE), April 29, 2016 - On May 13, Sprint (NYSE: S) will add HTC 10TM to its list of powerful smartphones that operate on the Sprint LTE Plus Network. HTC 10 will be available for $0 down and just $26 per month for 24 months with installment billing for well-qualified customers1. It can be ordered at sprint.com, 1-800-Sprint1 or at any Sprint retail store.
Sprint LTE Plus is now available in more than 190 U.S. markets. It takes advantage of Sprint's rich triband spectrum portfolio and uses some of the world's most advanced technologies in wireless. Carrier aggregation, a feature of LTE Plus, creates a wider lane that allows more network traffic to travel at higher rates, enabling Sprint to provide customers even faster data speeds.
According to Sprint's analysis of Nielsen Mobile Performance Data, the Sprint LTE Plus Network beat Verizon, AT&T and T-Mobile by delivering faster download speeds2. Key LTE Plus benefits include:
Faster service with double the network capacity and speed, and peak speeds in excess of 100Mbps on capable devices.
Stronger service with smart antenna technology that extends the cell signal further at 2.5GHz.
More reliable service using three bands of spectrum – 1.9GHz for broad coverage, 800MHz for better indoor service, and 2.5GHz for even faster data speeds.
Consumers switching to Sprint can take advantage of the biggest wireless offer in U.S. history – 50 percent off the price of most Verizon, AT&T and T-Mobile rate plans.3 Customers who switch get 50 percent off most current rate plan prices from their current carrier. And, Sprint will cover switching fees up to $650 per line.4
Sprint also offers a 30-day satisfaction guarantee – the industry's best consumer satisfaction guarantee. If customers aren't completely satisfied within 30 days, they can return their phone and Sprint will refund the cost of the device and service charges.5
Loaded with Features
Inspired by light and sculpted to perfection, HTC 10 boasts a new approach to design where bold contours are carved out of solid metal. HTC 10's fingerprint scanner unlocks in 0.2 seconds and has been algorithmically designed to recognize the user faster and more accurately over time.
With one of the most robust smartphone cameras available today, HTC 10 offers the world's first6 optically stabilized, larger aperture ƒ/1.8 lenses on both the front and rear cameras. The camera delivers brilliantly sharp, low light and high–resolution photos whether behind or in front of the lens.
Built for audiophiles, HTC 10 is certified for Hi–Res audio and has been designed to make music sound the way that the artist intended. Re–engineered HTC BoomSound® Hi–Fi edition speakers feature the same separated tweeter and woofer design as leading acoustic systems. A dedicated amplifier on each speaker adds to the experience and delivers sound clarity unprecedented on a smartphone.
Engineered from the inside out to last longer, HTC 10 boasts the latest Qualcomm® Snapdragon® processor and a new PowerBotics system, which auto detects and shuts down apps that use excessive power – improving battery life by 30 percent. HTC 10 also includes the latest in–box quick charge 3.0 Rapid Charger with improved thermal management to charge the battery up to 50 percent in just 30 minutes – ideal for people who find their phone running low on juice before the end of the working day.
For more details on HTC 10 from Sprint, please visit www.sprint.com.
About Sprint
Sprint (NYSE: S) is a communications services company that creates more and better ways to connect its customers to the things they care about most. Sprint served more than 58.4 million connections as of Dec. 31, 2015, and is widely recognized for developing, engineering and deploying innovative technologies, including the first wireless 4G service from a national carrier in the United States; leading no-contract brands including Virgin Mobile USA, Boost Mobile, and Assurance Wireless; instant national and international push-to-talk capabilities; and a global Tier 1 Internet backbone. Sprint has been named to the Dow Jones Sustainability Index (DJSI) North America for the past five years. You can learn more and visit Sprint atwww.sprint.com or www.facebook.com/sprint and www.twitter.com/sprint.
1 Requires new line of service or eligible upgrade. Excludes taxes and svc plan charges. If service or installment billing agreement is cancelled early, the remaining payments become due immediately.
2 Claim based on Sprint's analysis of average LTE download speeds using Nielsen NMP data (October 2015 through March 2016). Actual download speeds may vary by location and device capability.
3 Discount applies to base monthly service plan and access charges only. Discount does not apply to certain charges such as taxes, surcharges, roaming, premium content, add-ons, and apps. New plan features may not be an exact match. Discount offer limited to regular rates on consumer plans for Verizon's shared data rate plans as of 3/31/16 for 1GB, 3GB, 6GB, 12GB, 18GB, 20GB, 25GB, 30GB, 40GB and 50GB; T-Mobile's Simple Choice rate plan prices as of 3/31/16 for 2GB, 6GB and 10GB; and AT&T's shared data rate plans as of 3/31/16 for 300MB, 2GB, 5GB, 15GB, 20GB, 25GB, 30GB, 40GB and 50GB. Discount does not include competitor promotional or sale prices. Plans exclude unlimited music and video streaming, data carryover, and cloud options that other carrier plans may offer. Offer/coverage not available everywhere or for discounted phones. Subject to new-line, $30 activation fee, credit, valid port-in. Customer must choose from same porting carrier rate card.
4 Requires valid port-in, submission of previous bill, current phone trade in and online registration. Via American Express Reward Card (less trade-in value provided).
5 Valid March 25 for a limited time. If a new customer or an existing customer adds a line of service (phone, tablet or MBB) and deactivates within 30 days, Sprint will credit all device charges (Installment Billing, Lease, or Early Termination Fee, (when device is returned) and reimburse the customer for the device purchase, price or down payment, activation fee, MRC, and all associated taxes and fees. The following charges will not reimbursed: Premium content, third party billing, any international charges not included in your plan (e.g. international voice roaming) and any associated taxes and Sprint surcharges. As an example, overage, per minute international services with a cost outside of plan MRC are considered nonstandard usage.
6 Based on HTC research among major smartphone brand models as of March 2016, using GSMArena statistics and other mobile manufacturing trade sources.