The G-Hold accessory makes tablet users more productive; Microsoft to offer it for the Surface line?
4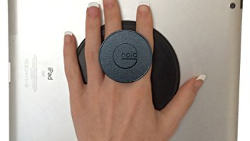 It sounds like a story right out of Shark Tank. Single mother Alison Grieve comes up with a simple tool that allows tablet owners to hold on to their slates. Called G-Hold, the device uses suction to stick to the back of a tablet. Thanks to its ability to rotate 360 degrees, the product allows tablet owners to become more productive. University researchers say that the G-Hold can prevent heavy-use tablet users from suffering injuries from repetitive use.
After 10,000 units of the G-Hold sold on HSN last December, the product has now apparently hit the big time. According to U.K. newspaper the
Daily Record
, Microsoft has asked Grieve to design a special G-Hold for its Surface line of tablets. The inventor of the tablet accessory said, "G-Hold really adds value to Surface when it's used as a mobile unit rather than at a desk. Microsoft are (sic) really excited about our product." Microsoft is expected to launch the Surface version of the G-Hold this summer.
You can order the G-Hold for your Apple iPad or other tablet manufacturers right now, by clicking on the sourcelink. The product can be easily re-used, and it comes in 13 different colors. On the website, there is a link for U.S. consumers to use when ordering. The link takes you to Amazon where the G-Hold is on sale for $29.95. That is a discount of $10.04, or 25% off the regular price.
source:
G-Hold
via
TheDailyRecord
,
MSPoweruser