Tesla Model S owners will be able to start the car with their iPhones, and possibly Android phones
25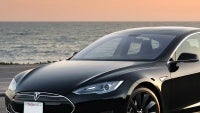 A
Tesla Model S
all-electric luxury sedan and an iPhone - the 2014 technological high-roller's dream! Soon, the two will become even better integrated, as the upcoming update to v6 for the Model S' system software will add the option of firing up the its engine and getting notifications for it via the iPhone. Google loyals, fear not - a new Tesla app for Android is in the works as well, although whether it will feature this functionality is not for certain.
Of course, the newly forged bond between car and phone brings to light the question of security. What if somebody nabs your iPhone and takes off with your prized electric sedan? Users speculate that Tesla will make use of Apple's Touch ID API for developers, which will enable the auto-maker to secure the unlock mechanism with their fingerprints. However, access to the API from third-party apps is reserved for the
upcoming iOS 8
, which means Tesla owners will have to wait until mid-September at the earliest.
Before you've asked, no - the update won't let you drive the Tesla remotely with your iPhone. But it will let users sync its calendar to their phones, including the list of appointments. The car will even provide navigation directions if events are marked with location. But scratch that. The most brilliant update to the Tesla OS is the ability to give your car a custom name! Now you can call it your
"Intergalactic SpaceBoat of Light and Wonder"
for real as a chuffed Elon Musk gives you his nod of approval.