Samsung Galaxy S5 survives after being run over by a Tesla Model S
50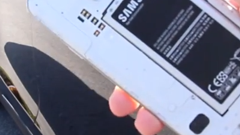 Much to the disappointment of some fans, Samsung isn't using a metal body for its new
Galaxy S5
flagship smartphone. While this doesn't make it a bad device by any means, it does allow some metal-made handsets, like the HTC One M8, to
fare better in drop tests
.
Still, it turns out that the Galaxy S5 has a solid construction after all (not that we doubted that). The new handset was intentionally run over by a Tesla Model S, and still functioned after that. Sure, its plastic-made back case wasn't usable anymore, and the glass around the rear camera cracked, but its internals still worked. In case you didn't know, the Tesla Model S is a full electric car that weighs more than 2 tons (4,647 lbs), so it's considerably heavier than a regular car.
As you'll see in the video below, before the Tesla Model S actually runs over the Galaxy S5, the smartphone is dropped from various height levels - and remains 100% functional after that, although it back and margins took some damage.
As a reminder, the Samsung Galaxy S5 will be released in the US and many other markets around the world on April 11.