Take the first close look at the S6 edge Iron Man edition, and marvel at the $2500 tag
14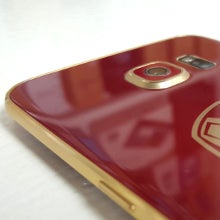 The
Galaxy S6 edge
Iron Man edition
may
go for pretty penny on eBay
, but, aside from the official Samsung teasers and press shots, we haven't actually seen the handset up close and personal. Until now, that is.
The Marvel Comics hero-clad smartphone is a sight to behold, with a shiny red-and-gold nanocoating, that Samsung so eloquently
clarified in a blog post is needed
to arrive at multiple color layers infused into a single solid color of the premium S6 edge chassis.
In addition, the phone takes advantage of the new theming engine in the S6 edge TouchWiz overlay to introduce an Iron Man one, which is on by default, and presents new icons, wallpaper, as well as a shiny golden thread. Check it out below, and tell us would you buy this limited Iron Man edition if you had the chance. By the chance, we mean about $2500 lying around, doing nothing.